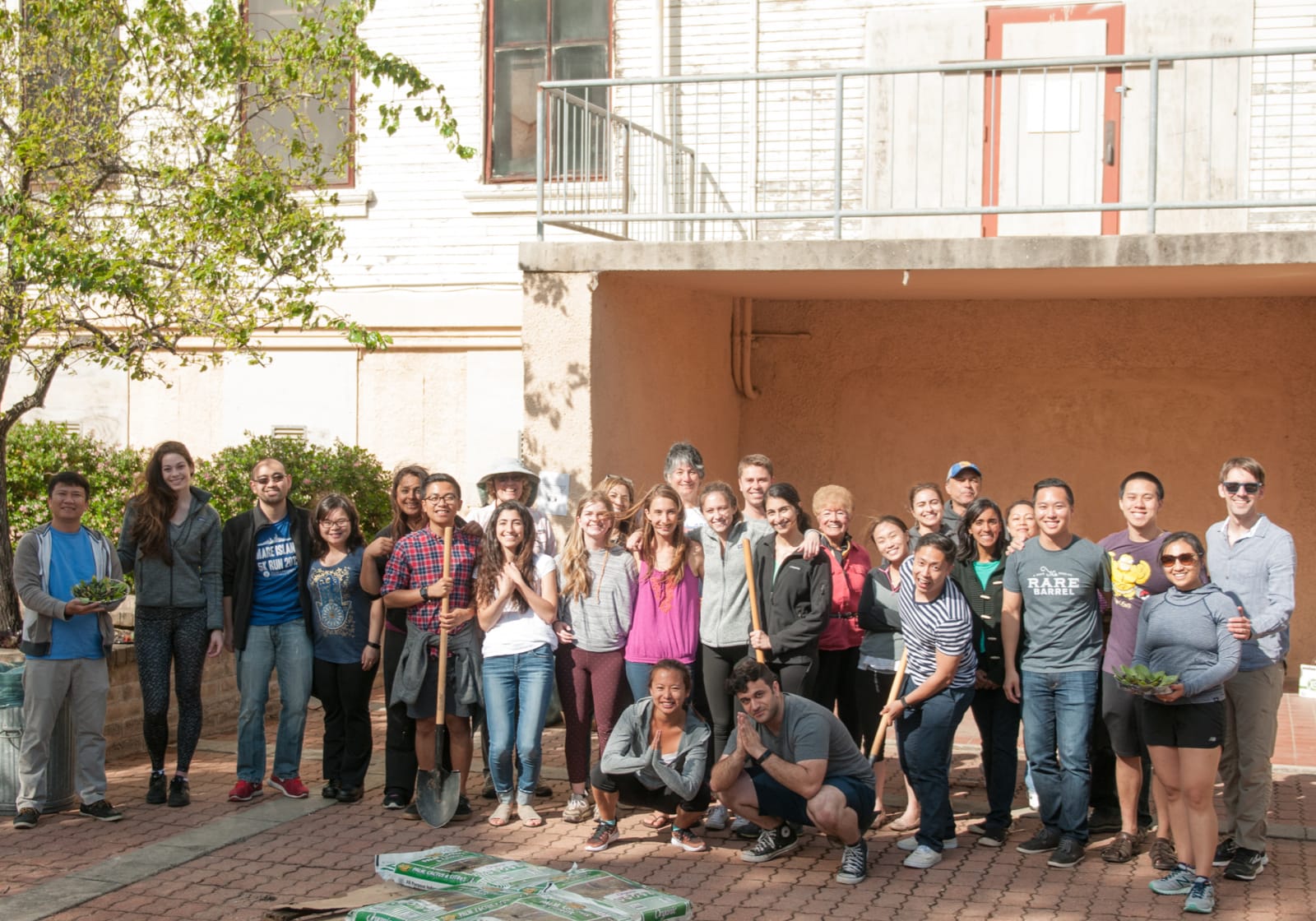 Community Outreach
Community outreach is at the heart of Touro.
Students come to Touro not only to learn but also to apply that knowledge in meaningful ways. One of our missions is to help eradicate healthcare inequities and disparities. Touro students have the opportunity to tackle these inequalities directly here in Vallejo and in neighboring communities.
Why Outreach?
Applying what you know in a practical way in the real world is an important part of your development and Touro is here to support you through this vital process. You'll help your fellow community members, while learning from them at the same time.
There are dozens of ways for students to be involved with the community, from student tutoring, Pediatrics Club, and Teen Life Conference to Bio Academy, Project Roomkey and many more.
Our community outreach efforts can be grouped into three main categories.
Clinics & Health Services
Students, faculty and staff across Touro work together to offer a number of health clinics and services to Solano County residents. These include:
Diabetes DREAM Team
Our DREAM (Diabetes Research Education And Management) Team, led by internationally renowned diabetes specialist, Dr. Jay Shubrook, takes an interprofessional approach to tackle diabetes; conducting cutting-edge diabetes-related research projects, providing team-based clinical care to patients with prediabetes and diabetes, educating healthcare professionals and candidates on the most up-to-date diabetes treatment, and leading community outreach efforts in diabetes prevention and education. Some of the team's work in the community includes:
Community Projects
Our commitment to the community goes beyond healthcare services, with an ever-growing list of efforts and partnerships. These include:
Project HAPPY
Project HAPPY helps combat the pediatric obesity epidemic through education, clinical service, and community programs. Student-doctors help teach classes, lead activities, and serve as health advisors for families.
As a pediatrician, College of Osteopathic Medicine Dean Dr. Tami Hendriksz started Project HAPPY (Healthy Attitudes Produce Positive Youth) as a way to address a growing youth obesity crisis in this country.
Families participating in Project HAPPY will receive nutrition, physical activity, and health education. They also get recipes, workbooks, gift cards to buy healthy food, water bottles, and more!
Students partner with the participating families to teach about healthy lifestyles, gaining valuable community service and experience with patient education.
Project HAPPY has had more than 100 student volunteers serve 51 families. The 6th cohort is scheduled to begin the Spring of 2023. We are recruiting families now!
Get Cooking
Get Cooking with Touro and take part in a free online cooking class that showcases recipes inspired by the Mediterranean Diet, which has been thoroughly backed by evidence-based medical research demonstrating its benefits in reducing risks of cardiovascular disease, other chronic diseases, and improving overall health.
Project Roomkey
California responded to the dual crises of the Covid-19 pandemic and unhoused people it was likely to disproportionally affect with a unique program called Project Roomkey, and Touro University was there to help.
Initially, Project Roomkey began as a way to find temporary, non-communal housing for the unhoused so that health officials can more easily corral the traditionally transient population into locations where they could shelter in place and limit their potential to spread COVID.
Partnerships were formed and utilized to create an opportunity in the crisis for healthcare officials to do needed outreach to these communities of individuals, which are often very hard to connect with in ordinary circumstances.
These unhouse people, now temporarily housed, could get needed checkups, have their medications updated, and have their health histories taken, in some cases for the first time in decades.
One partnership was formed with Touro University California and other partners in Solano County to shelter the unhoused in Vallejo, TUC's home city, and coordinated by Dr. Michele Bunker-Alberts, Assistant Professor with the School of Nursing.
Dr. Bunker-Alberts and a handful (in the beginning) of nursing students set out to tackle this monumental task. In time, Dr. Bunker-Alberts and her group were able to assist to such a degree that several previously unhoused individuals and families were able to find permanent housing.
The size and scope of student volunteers — consisting generally of about four College of Osteopathic Medicine students, five Nurse Practitioner students and two Master's of Nursing students — grew over time.
The expansion allowed Project Roomkey to reach people not otherwise accessing healthcare. The additional help allowed Dr. Bunker-Alberts to begin to digitize patient records for the county, as well as upload those records to a pharmacy database for use in updating medications as needed.
Vallejo People's Garden
To have healthy people, they must have access to healthy food. This idea is the driving force behind the City of Vallejo's People's Garden and as part of the local community Touro University California is a proud part of the project.
Vallejo Building Black Power (VBBP) & Leadership Project
With funding support and partnership from The California Endowment (TCE) in 2020, TUC's Public Health Program launched VBBP to engage and build the capacity for power building work within Vallejo's Black community.
The long-term vision of the project is to grow a dynamic, purposeful, and powerful ecosystem of leaders with the knowledge, resources, and medicine needed to sustain generational pursuits for justice in the face of white supremacy and racialized violence directed at Black people.
The goals of VBBP are to:
Affirm and nurture participants' demonstrated leadership capacity
Foster relationship and solidarity-building within the cohort
Support healing and repair
Provide space for participants to clarify and deepen their commitments to a transformative vision for Vallejo
Berkeley Suitcase Clinic
Since 1989 the Berkeley Suitcase Clinic, a humanitarian student organization and volunteer community effort, has offered free healthcare and social services to underserved population.
The mission of the Suitcase Clinic is to promote the health and overall well-being of underserved individuals through service provision, cooperative learning, and collective action among community and professional volunteers, students, and participants.
TUC students have an opportunity to participate in the program by helping to provide general healthcare services at the Clinic's vitally important offerings.
VCUSD School Based Clinic
At its core, Touro University California's College of Medicine (TUCOM) is about wellness. Knowing that wellness begins with our youth, TUC is involved in many community outreach efforts that target local children and young people. the VCUSD School-Based Clinic is an important part of those efforts.
Dr. Tami Hendriksz, Dean of TUC's College of Medicine, is the medical director for the pediatric clinics that are located on the campuses of two local elementary schools.
TUCOM students have an opportunity to work with pediatricians and nurse practitioners to provide healthcare to uninsured children aged 12-months to 19-years-old who visit the clinics. Patients are able to obtain physical exams, vaccinations, advice and much more.
Teen Life Conference
An outreach effort to area high school students, the Conference is another youth-based wellness effort in which TUC students may participate.
The annual Teen Life Conference invites high school students from Benicia, Pinole, and Vallejo to campus to discuss how to make healthy lifestyle choices and expose them to health industry professions. The conference includes panel presentations as well as hands-on activities.
Biotech Academy
The Biotech Academy is an exciting and innovative hands-on learning opportunity for area students.
Although held virtually for the past few years, traditionally TUC's Biotech Academy, high school students from in and around the Vallejo area are chosen from a pool of interested applicants to participate in this summer program on campus.
The academy allows young people to experience many hands-on sessions that teach such health topics as surgery, osteopathic medicine, mindfulness and integrative medicine, human anatomy, microbiology, diabetes, dementia and Alzheimer's disease.
Mackie Air Study
The breath of life: Dr. Trina Mackie understands the local issues surrounding clean air and has worked tirelessly to understand, quantify and address area problems.
The air we breathe: Air quality has a huge impact on health. Air pollution increases the risk of asthma, respiratory diseases, stroke, heart attack, lung cancer, and more...and Touro University California cares.
Dr. Trina Mackie, an associate professor from Touro University California's Public Health Program, in partnership with Vallejo Citizen Air Monitoring Network, continues this study monitoring Vallejo air quality, considering the proximity of marine traffic, nearby I-80 and Hwy 37 vehicle traffic, and oil refineries, as well as the impact of periodic factors like neighboring wildfires.
K-12 Mentoring Program PATHS
The Pathways in Achievement to Total Health in Students (PATHS) supports and educates 12- to 18-year old students by providing youth social justice, peer support and mentoring in low-income communities of color, including Tribal and LGBTQI+ communities.
PATHS is an Elevate Youth project grant funded by Sierra Health Foundation under contract with the California Department of Health Care Services (DHCS).
The work done through PATHS targets youth aged 12 to 18 in diverse communities in an effort to reduce substance use/abuse, increase resiliency and graduation rates while improving overall community wellness.
Currently, PATHS-Elevate Youth is partnering with Kaiser Permanente, The Mentoring Center, and VCUSD to support and guide Mare Island Health and Fitness Academy Middle School and Vallejo High School students on a journey to achieve total health, awareness, and success.