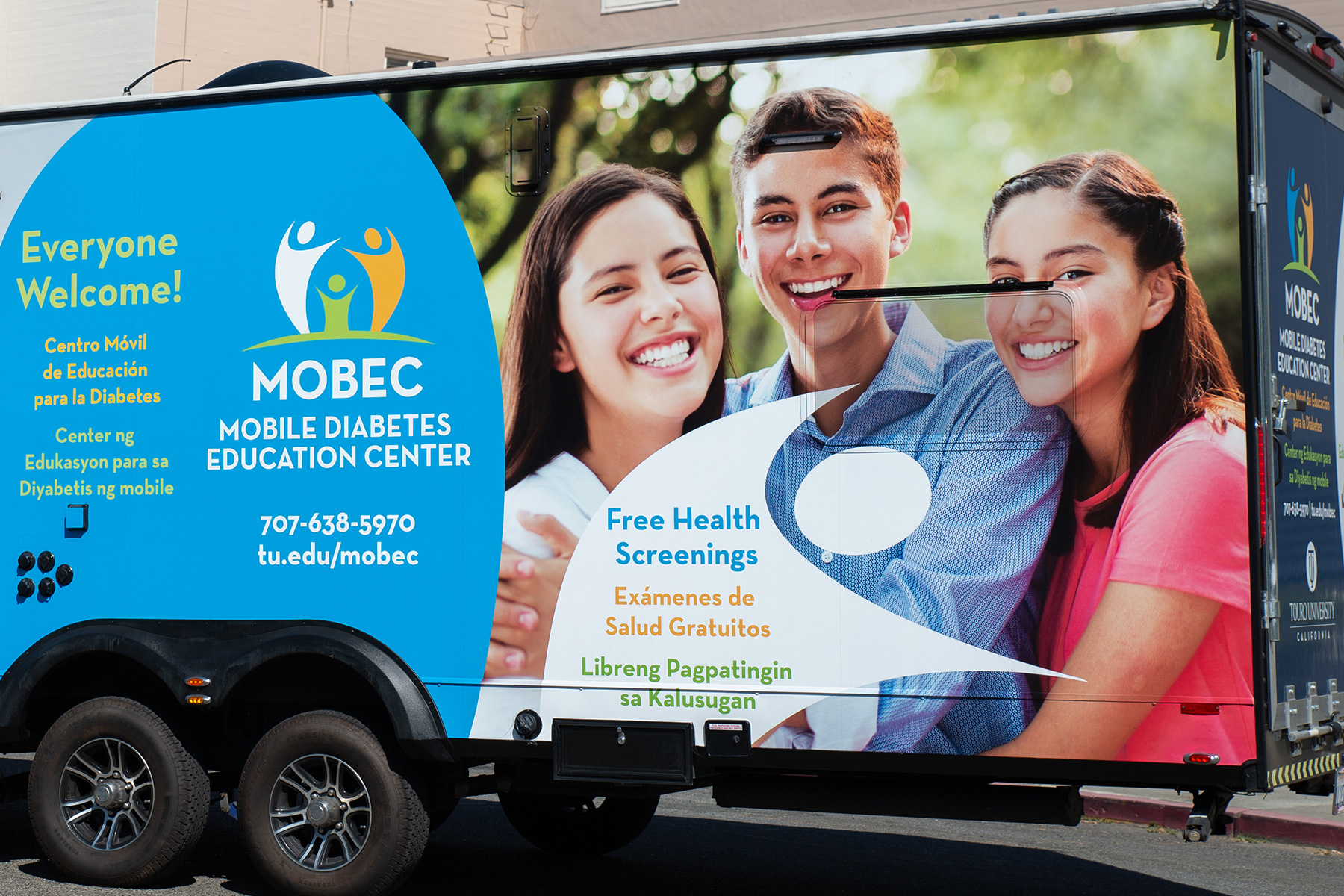 Mobile Diabetes Education Center (MOBEC)
At Touro University California, we're dedicated to helping our community better prevent and manage diabetes. Thanks to a generous grant from Sutter Health — and additional subsequent funding — the MOBEC team and TUC student volunteers can take diabetes prevention tools to the community.
88

million US adults have prediabetes*
84%

of those 88 million don't know they are prediabetic*
9900+

people have visited MOBEC as of January 2022
*Source: National Center for Chronic Disease Prevention and Health Promotion
About MOBEC
The Touro Mobile Diabetes Education Center (MOBEC) is a state-of-the-art mobile trailer that brings FREE diabetes screening and education to the people of Solano County. Through the use of this mobile education center, we aim to break the barrier between healthcare providers and community members in the prevention of diabetes.
We provide not only diabetes screening for members of the community who may not otherwise have adequate access to healthcare but also education to the public about their risk factors, thus aiming to prevent diabetes and prediabetes in their lives.
Our Mission:
To raise awareness about diabetes and prediabetes
To empower effective self-management of diabetes and its related conditions
Our Vision:
Establishing a culture in promoting self-management and lifestyle modifications to achieve optimal health among those who are at risk for and affected by diabetes.
The effort of our DREAM Team has paid off, with impressive numbers accumulating as a testament to this important work.
Since its first event in May 2017 MOBEC has:
Hosted more than 241 events
Traveled nearly 7,000 miles
Reached more than 9,900 people
What Does MOBEC Bring to the Community?
Touro staff and student volunteers meet one-on-one with each community member visiting MOBEC. They assess the visitor's risk factors for diabetes, provide diabetes screening - both blood glucose screenings and A1C screenings for high-risk patients - and provide individualized education to prevent diabetes and prediabetes.
This one-on-one education includes counseling regarding lifestyle modifications, nutrition, medication education and exercise education. MOBEC volunteers also provide blood pressure screening and checkups, depression screenings, resources for tobacco cessation and more.
Touro students lead a low-impact exercise routine. The program — "Dia-BEAT-it!" — teaches community members how they can get active at home without the need for a gym membership or any formal exercise equipment. Request a MOBEC visit for your event or organization today.
"I've really liked working on MOBEC because it's given me a chance to talk with patients more in-depth about their diabetes and given me a chance to really educate them on how to plan their meals better."
Juliana Ma Crawford, MSPAS/MPH '19
Our Sponsors
Without sponsors, the work MOBEC does would not be possible. We are grateful for those who believe in this vision and have helped make it a reality. Our charter and ongoing primary sponsor is Sutter Health Community Benefits, which provided an initial generous grant of $300,000 from to get MOBEC up and running. Sutter's financial support in the years since has topped $500,000. Others have since realized the value MOBEC brings to the community and have joined in to support us. MOBEC is fully funded from generous gifts and grants from community sponsors.
Our 2020-2021 sponsors include:
Sutter Health Community Benefits
Solano County Public Health
California Department of Public Health
Janssen Community Impact
Our Partners
MOBEC works with dozens of amazing community partners. These organizations have agreed to host MOBEC and spread the word.
Our partners have been medical facilities, community centers, education facilities, places of worship, local businesses, food distribution sites and housing developments, among others.
Among the organizations who have been with us the longest are:
The Suisun Kroc Center
The California Human Development Corporation
Parkway Plaza
Mount Calvary Baptist Church
Emmanuel Temple Apostolic Church
Faith Food Fridays
Community organizations are welcome to join our mission by hosting MOBEC events.
MOBEC Online Resources
The MOBEC program provides resources and education at the reach of your fingertips. You can have access to information related to prediabetes, diabetes and hypertension care/management tips, resources and support, healthy cooking recipes, healthy eating tips and information, exercise tips, resources and videos, Solano County community information and resources, and health or COVID-related information from reputable agencies and organizations.
Check-out our YouTube playlists: