Campus Safety
The health and safety of students, faculty and staff at Touro University is a top priority.
This page contains access to the policies and reporting procedures to ensure a healthy and safe campus environment. Contact Campus Security 24/7 by calling (707) 638-5804
Crime & Personal Safety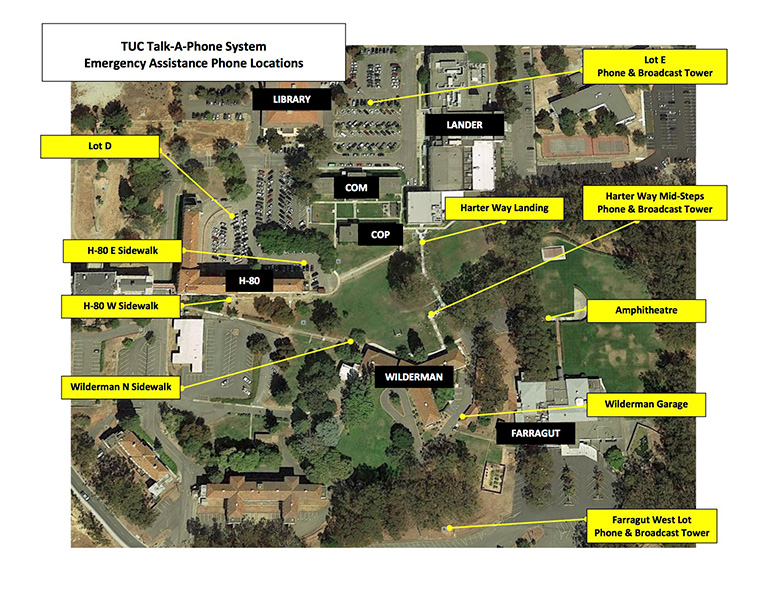 Touro University has several layers of protection to ensure campus safety is as high as possible. Along with uniformed security personnel who patrol the campus, Touro has 10 Blue Light Emergency Phone towers located across campus. Touro also partners with Everbridge, an Emergency Notification System (ENS), to provide timely alerts and information about incidents, events or emergencies. The Everbridge notification system is tested to ensure students, faculty and staff receive notifications in a timely, efficient manner.
Crime & Security Reports
While safety is our top priority, incidents do happen. It's important for students, faculty and staff to have access to information that will allow them to make appropriate safety decisions for themselves.
Report a Crime
You can fill out a form anonymously to report a crime.
Campus CARES Team
The TUC Campus CARE Team is a task force of staff and faculty who meet regularly to promote student success and campus safety by identifying individuals who demonstrate early warning signs of possible concerning, distressing or disruptive behavior. The CARE Team's goal is to successfully engage, support, and minimize concerns by intervening at the earliest possible point. Accomplishing this goal requires a coordinated institutional response that includes all members of the TUC community.
When to Report
Trust your instinct. If you see someone who is potentially in distress, report it.
Sexual Misconduct
Touro students, faculty and staff undergo training about expected appropriate behavior while on campus, while working or volunteering at off-site locations related to TUC activities.
You can find a registry of people convicted of sex offenses and crimes against children, as required by Megan's Law and related legislation.
Review Touro's Title IX Grievance Policy and Sexual Misconduct Policy.