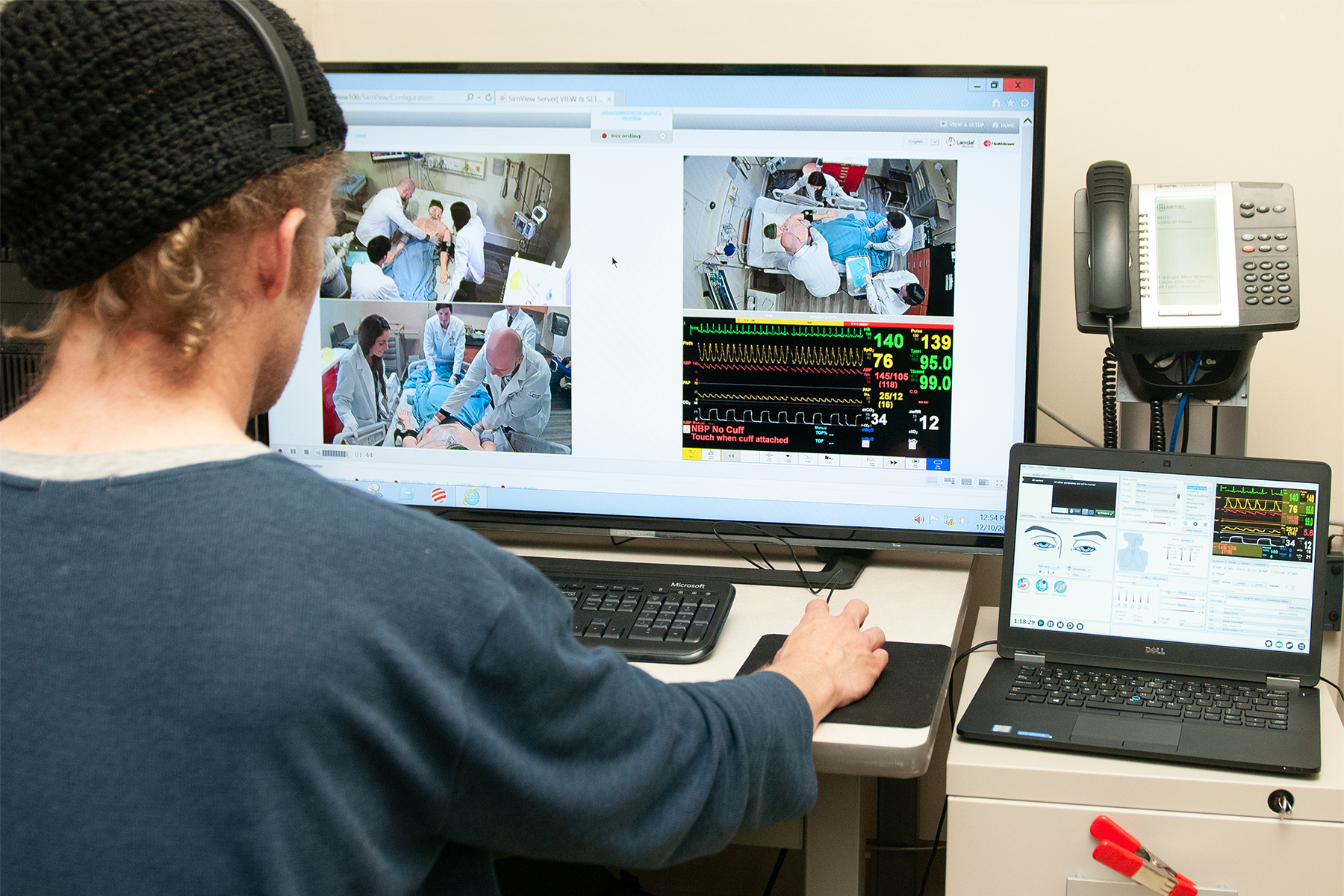 Center for Innovative Learning and Teaching (CILT)
Improved student learning and advanced teaching techniques are at the heart of the Center for Innovative Teaching and Learning (CILT).
CILT Overview
The Center for Innovative Teaching and Learning (CILT) aims to maximize both student and instructor performance through three primary areas:
The Clinical Skills Center
The Simulation Center
The Media Recording Studio
We collaborate with academic programs to support student success through programs, services, individual assistance and resources designed to enhance faculty development.
This includes assessing and prioritizing needs, setting goals, and working towards accomplishing the goals.
Clinical Skills Center
You learn by doing in our Clinical Skills Center. The center offers both in-person and telehealth Standardized Patient (SP) encounters, which allows students to hone critical clinical skills in a controlled environment.
Objective Structured Clinical Examination (OSCE) software captures each student OSCE encounter with video and sound.
Standardized Patient (SP) interactions can be designed to reflect:
Single and multi-station OSCE's (remote Telehealth and Clinic in person)
Small group interactive workshops
Recurring patient lab encounters
Case demonstrations
Live case studies
Inter professional group interviews
Simulation exam rooms
Simulation examination rooms are all outfitted to mirror a real-word clinical setting, including being equipped with:
Hand sanitizer
Canisters with tongue blades and long cotton tipped swabs
Reflex hammer
Tuning fork
Paper drapes
Pillow
Rolling clinician stool
Step stool
Eye chart
Optional seating for small groups
Exam lamps
The Simulation Center
Similar to the Clinical Skills Center, the Simulation Center, or "Sim Lab" is designed to mirror an Emergency Room/ICU setting to give students a realistic clinical experience. This simulated ICU/ER setting and hi-fidelity patient simulators with instant video replay for debriefing and feedback helps students of varying clinical programs.
Students of nursing, osteopathic medicine, pharmacy, physician assistant and public health collaborate in realistic, varied scenarios designed for collective competency in patient safety.
Our life-sized mannequins approximate the size and weight of real patients. Through computer-assistance, these mannequins also respond in a realistic way to different treatments and medications administered by students so they can see in real time how their choices affect patient care.
They breath, bleed, sweat, cry, froth, convulse, and one of them even gives birth. They can respond to emergency interventions like tracheostomy, needle decompression, chest-drainage, or defibrillation. CPR and cardio version may not only revive or stabilize a crashing simulator, but also generate real-time analytics to help learners optimize performance.
Equipment
Equipment in the Simulation Center includes:
High Fidelity Patient Simulator (emergency care & trauma model) – Team assessment and rapid response.
High Fidelity Patient Simulator (birthing model) – Birthing scenarios, emergency scenarios, team assessment.
Preterm Infant Trainer – Assessment and resuscitation.
Full-term Infant Trainer – Assessment and resuscitation.
Pediatric CPR Trainer – Manikin head & torso with real-time CPR feedback.
Abdominal Examination Trainer – Palpable abnormal findings with diaphragm compression.
Venipuncture Trainers (x2) – IV placement and blood draws.
Standardized Patients – Actors trained to portray patients & medical professionals within a given context.
Moulage – Makeup and modules to simulate symptoms and traumas.
Patient Monitors (x2) – ECG, SpO2, CO2, ABP, CVP, ICP, Anesthetic Agent, PH, PTC, PAP, PCWP, NIBP, TOF
Media Recording Studio
The Media Recording Studio brings professional quality video production to allow students and faculty to record a variety of educational promotional video presentations for use in numerous applications.
These services include:
Video Production
On-site video production
Green screen / Chroma Key
Project consultation (pre-production)
Directing
Producing / Production
Videography
Lighting
Principal photography
Project management
Post-Production
Audio engineering
Video editing
Motion graphics
Color correction
Sequence export to a file
Distribution of exported projects to project initiator via BOX
Voice Over Narration
Voice Over Intros and Extros
Leadership
Jim O'Connor, Ph.D.
Director of the Center for Innovative Learning and Teaching, Western Division
Professor and Founding Dean Emeritus of the College of Education and Health Sciences, Touro University California
1310 Club Drive
Vallejo, CA 94592
joconnor3@touro.edu