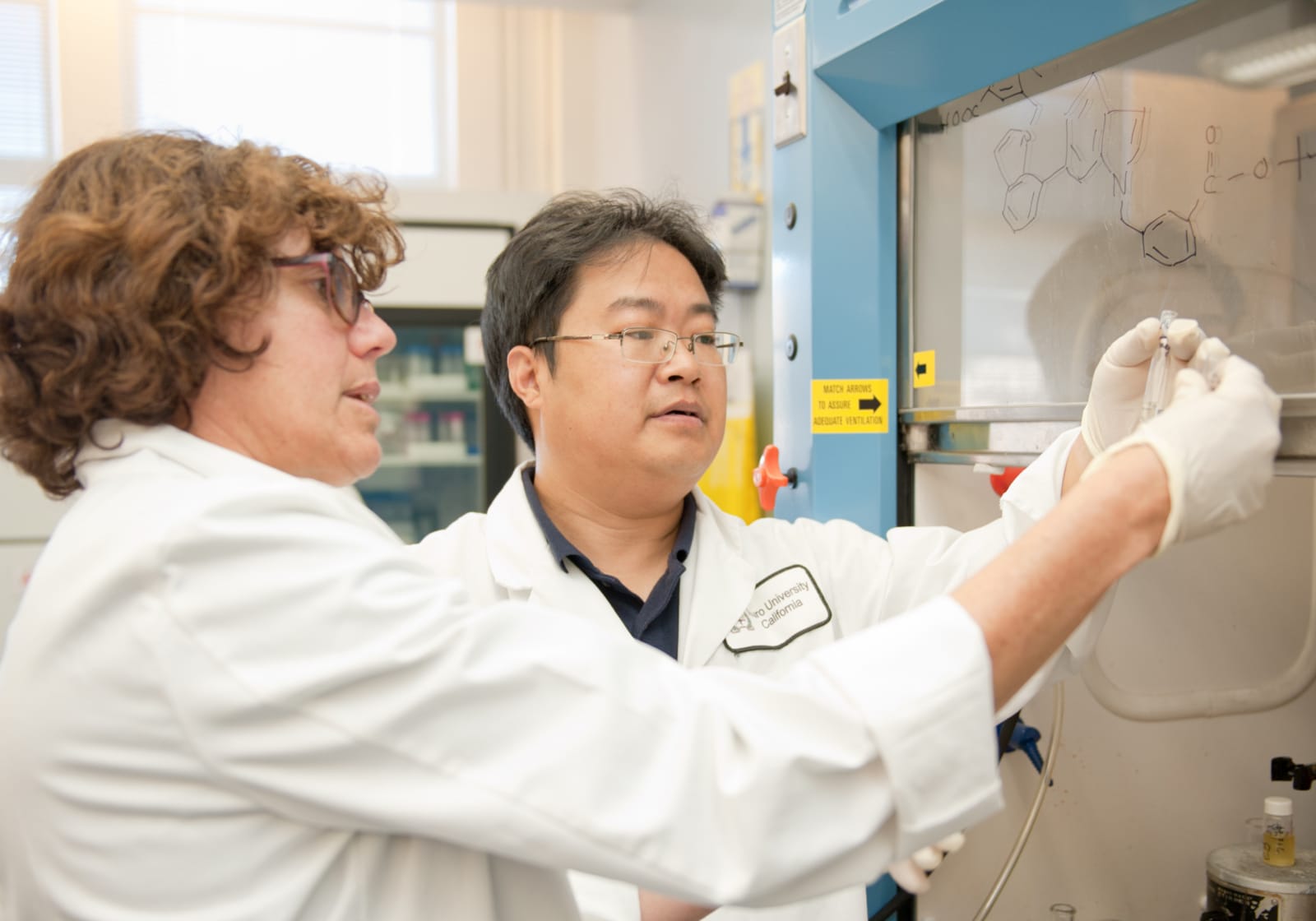 Research
At Touro, research complements both our mission to train students to thrive in their careers and our commitment to improving lives in our communities.
Our faculty and students work together across programs, centers and colleges—and with many external partners— to conduct research in medicine, education, public health, and pharmacy.
Areas of Research
Our main research areas center around finding solutions to problems commonly faced by our community and the populations our students go on to serve. These topics include:
Metabolic disease
Lipid disorders and atherosclerosis
HIV drug design
Community health
Applied behavior analysis
Distance learning
Explore research areas by school below:
College of Osteopathic Medicine
Metabolic Disease
Our Metabolic Research Center (MRC) supports the study of diabetes, obesity, cardiovascular disease, and other metabolic disorders. These conditions are among the most common, and vulnerable populations often experience higher rates and worse outcomes. Current projects focus on the impacts of nutrition and pharmaceutical treatments on metabolism and disease. The MRC work is part of a University-wide effort to prevent and treat diabetes and metabolic diseases.
Lipid Disorders and Atherosclerosis
Like metabolic diseases, lipid disorders — a high level of lipids like LDL cholesterol or triglycerides in the blood — are very common in the populations we work with. They're among the highest risk factors for heart disease and stroke. Our lipidology laboratory employs techniques that allow the study of HDL function, with a special focus on LDL and HDL subclasses and the antioxidant enzyme paraoxonase 1 (PON1). We collaborate extensively with UCSF, Mount Sinai, and organizations in Israel and Japan.
Mass Spectrometry Laboratory
The Mass Spectrometry Core Laboratory assists investigators at Touro University California and outside investigators in the characterization of lipids, carbohydrates, and other analytes from biological sources.
The Core provides access to technical proficiency and instrumentation for fee-for-service costs.
We have both experience and special expertise for complex kinetic studies to assess carbohydrate, lipid and lipoprotein metabolism. The Mass Spectrometry Core is equipped with three GC-MS instruments and one triple quadrupole LC-MS/MS instrument. Kinetic measurements currently performed in the Mass Spectrometry Core Lab include:
Endogenous glucose production
Gluconeogenesis and glycogenolysis
Lipolysis (Ra glycerol and Ra palmitate)
De novo lipogenesis
Lipoprotein kinetics (ApoB48 and ApoB100)
Triglyceride production
NMR and Drug Design Laboratory
The Gochin lab is engaged in a drug discovery project aimed at finding small molecule inhibitors of viral fusion. The focus currently is on HIV, for which we have funding from NIH.
We have a small side project in arenavirus fusion, for which we received an intramural grant.
Designs and test molecules to prevent HIV virus attaching to immune blood cells.
We are adept at:
medicinal chemistry and organic synthesis
protein synthesis and purification
biochemical assay development
NMR structural biology
College of Pharmacy
Universal Flu Vaccine
TUC's College of Pharmacy was awarded a new R01 research grant from the National Institutes of Health (NIH) entitled "Rapid Manufacturing of a Universal Flu Vaccine Using TMV-conjugated Centralized Antigens."
The funded research project is an extension of work on influenza vaccines made in plants, a 15-year effort supported by numerous publications on the success of a plant-based vaccine production strategy.
HIV Drug Design
Backed by a grant from the National Institutes of Health, Touro researchers are studying how to inhibit the HIV virus from entering cells using nuclear magnetic resonance (NMR) technology. While antiretroviral HIV drugs are able to reduce viral loads to undetectable amounts, they must be taken regularly, forever, or the virus will return. Our goal is to develop an oral medication that can defeat the virus.
Antimicrobial Pathogenesis and Stewardship
Faculty in varied disciplines work on the discovery and development of novel antimicrobial therapies as well as optimizing the use of current therapies aimed at reducing morbidity from clostridium difficile, pseudomonas aeruginosa, and multidrug resistant infections.
Mental Health Therapy and Mental Health Advocacy
Board-certified psychiatric pharmacists investigate the risks and benefits of merging treatment paradigms such as psilocybin, MDMA, and ketamine-assisted therapy for psychiatric indications. These faculty evaluate advocacy efforts for patients with substance use disorders, author county jail, and state prison decarceration policies, and conduct educational interventions in mental health for underserved populations.
Pharmacy Workforce Support to Optimize Delivery of Care
Faculty collaborate within and outside the college to ascertain the value of certification and other education/training modalities to improve the professionalization and effectiveness of pharmacy support personnel in a manner that allows for prescription department redesign to place pharmacists in more direct patient-centric care activities in the community setting.
Scholarship of Teaching and Learning
Highly specialized educators collaborate within and across departments to evaluate the use of various technologies, social media, teaching pedagogies, and integrative constructionist learning platforms on student learning, activation, engagement, and preparedness for actual practice. Concurrently, they investigate the impact of organizational culture and structural paradigms within the academic program to optimize the learning environment and professionalization of student pharmacists.
College of Education & Health Sciences
Applied Behavior Analysis
In addition to training applied behavior analysts in our master's degree program, we conduct a lot of research in the ABA space. Recent work has looked at the impact of the COVID-19 pandemic, specifically studying behavior analysis delivered via telehealth, and the differences between virtual and in-person behavior analysis.
Distance Learning
In 2019 and 2020, our Graduate School of Education faculty published very timely research on distance learning and online education. As many K-12 schools went remote for at least some period of time during the COVID-19 pandemic, understanding the impact of this mode of learning and best practices moving forward is of critical importance.
Community Health
The Public Health Program is invested in improving community health domestically and internationally through the development and dissemination of high-quality research and scholarship to inform interprofessional practice, advocacy efforts, and policy change with an emphasis on developing community and professional partnerships. Through participatory and collaborative approaches, our college works to promote social justice and health equity while addressing regional and global health issues.
Currently, our program conducts a wide range of research activities, such as a Youth Participatory Action Research in-class and afterschool health promotion advocacy intervention study assessing low-income ethnically diverse students at Jesse Bethel High School BioMedical Academy in Vallejo, California; Participatory Action Research to assess exposure to police violence in a cross-sectional sample of the Vallejo community examining the effects of this exposure on health and well-being outcomes; and studies on alcohol use among female entertainment workers in Cambodia and their sexual and reproductive health.
Faculty Publications
Our faculty regularly publish in a wide array of academic journals focused on medicine and education.
Office of Sponsored Programs
Touro California's Office of Sponsored Programs helps submit funding applications for research, instruction and public service activities. We also provide assistance with post-award management. In large part, the OSP acts as a liaison between scientists, administrators, and sponsors to make sure all sponsored projects meet University guidelines and policies, as well as federal, state and sponsor regulations.
All proposals that use the Touro University California name and resources and may result in an award to the University must adhere to University procedures for submitting a proposal, accepting an award and administering the project.
Research Day
Research Day showcases the research contributions of both faculty and students in science, clinical practice, education and public health. One of the most popular campus events each year, Research Day, allows students to showcase what they've learned. Many Research Day projects inspire deeper investigation and constructive new collaborations.
This years Research Day has concluded and took place on April 19th, 2023.
Research Collaborators
We regularly receive grants from the National Institutes of Health, the California Department of Public Health, the National Science Foundation, and many more local and national science and public health-focused organizations.
We've also built an impressive network of collaborators, both locally, nationally, and around the world.
Current research partners include:
Local
National
International