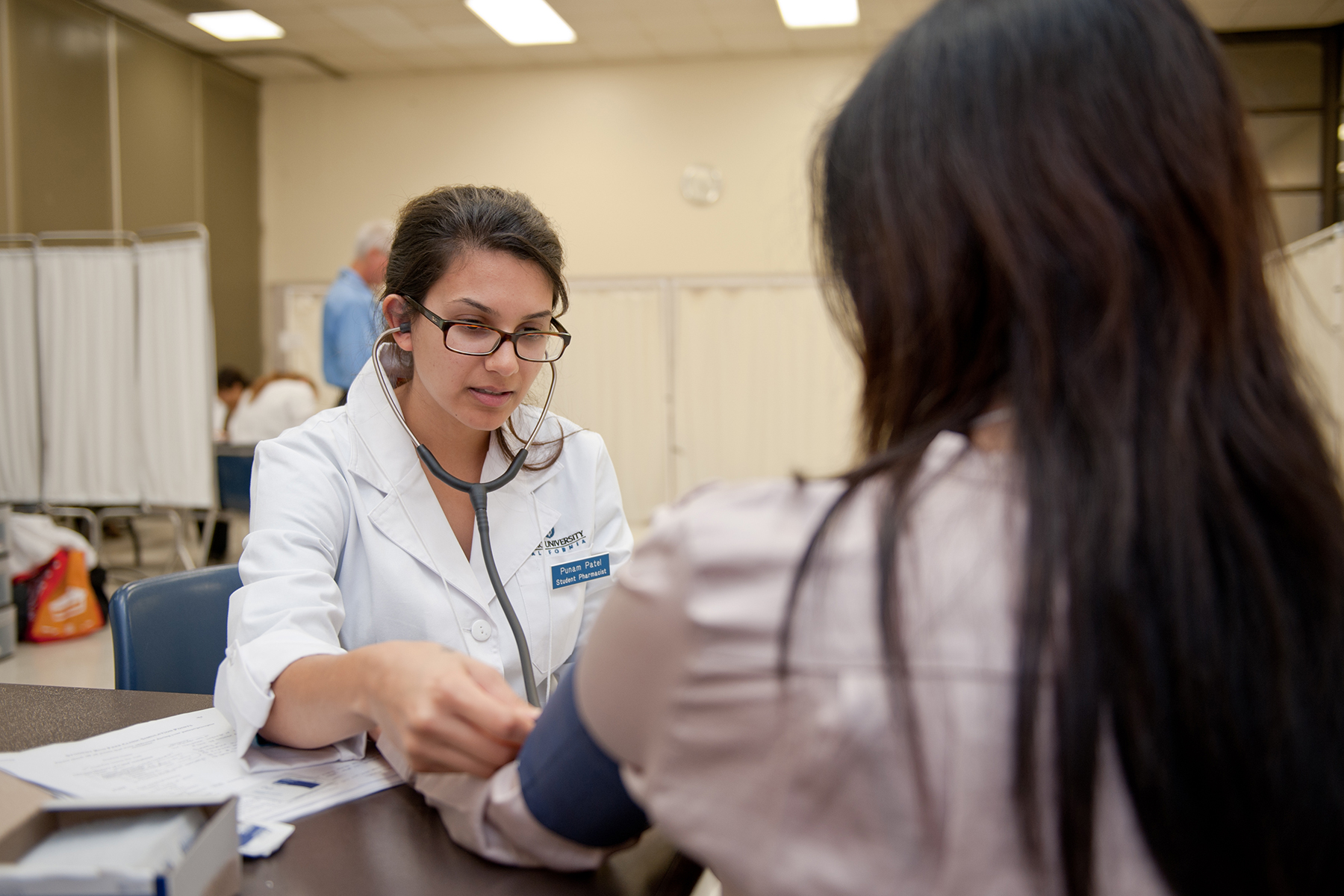 Student Run Free Clinic
The Student-Run Free Clinic (SRFC), which opened in 2010, provides free, compassionate, quality health services to Vallejo and surrounding communities.
SRFC is organized and staffed by students from across Touro University California's health programs. They are directly supervised on-site by licensed clinicians.
1,000+

volunteer hours served since Oct. 2021
10

patients average seen nightly
100+

student participants in 2021 alone
Our Services
In addition to seasonal flu vaccinations, cholesterol screening, blood sugar screening and EKGs, we offer the following screening, preventive and educational services to help community members take control of their health:
Blood Pressure Check
High blood pressure is often called the "silent killer," as it is the #1 risk factor for having a stroke, according to the American Heart Association. It is also considered a risk for heart attacks. The only way to know if you have high blood pressure is to have it regularly checked. Adults aged 18 and over should be screened for high blood pressure at least once every two years.
Screening Physical Exam
Yearly screening physical exams can detect problems associated with aging and lifestyle, such as smoking and physical inactivity. Screening exams can include blood pressure monitoring, a heart and lung exam, risk factor assessment for various diseases, and much more.
Medication Review
We encourage you to bring all your current medications — including vitamins, prescription creams, sprays, etc.— so our student pharmacists can perform a personalized medication review.
Project Hope & Case Management
Our public health students are here to help you sort through information about diabetes, hypertension, and cardiovascular disease. We will pair you up with a case manager who will walk you through information on various chronic conditions and work with you to set personal goals for a healthier lifestyle.
Osteopathic Manipulative Treatment
Osteopathic medicine focuses on treating the whole person: body, mind, and spirit. Osteopathic Manipulative Treatment (OMT) involves using the hands to diagnose, treat, and prevent illness and injury. Using OMT, our osteopathic medical students will move your muscles and joints using techniques that include stretching, gentle pressure, and resistance.
Schedule an Appointment
Address: 545 Magazine St, Vallejo, CA 94590
Volunteer with SRFC
We invite all osteopathic medicine, physician assistant, nursing and pharmacy students to volunteer with SFRC. You'll be making a difference in the Vallejo community and gaining socially and culturally informed clinical experience.
Project HOPE
Part of our case management efforts, Project Hope began in 2021 as a way of ascertaining from our guests any obstacles to their obtaining maximal health services. We provide resources when possible to help them overcome these barriers to health.