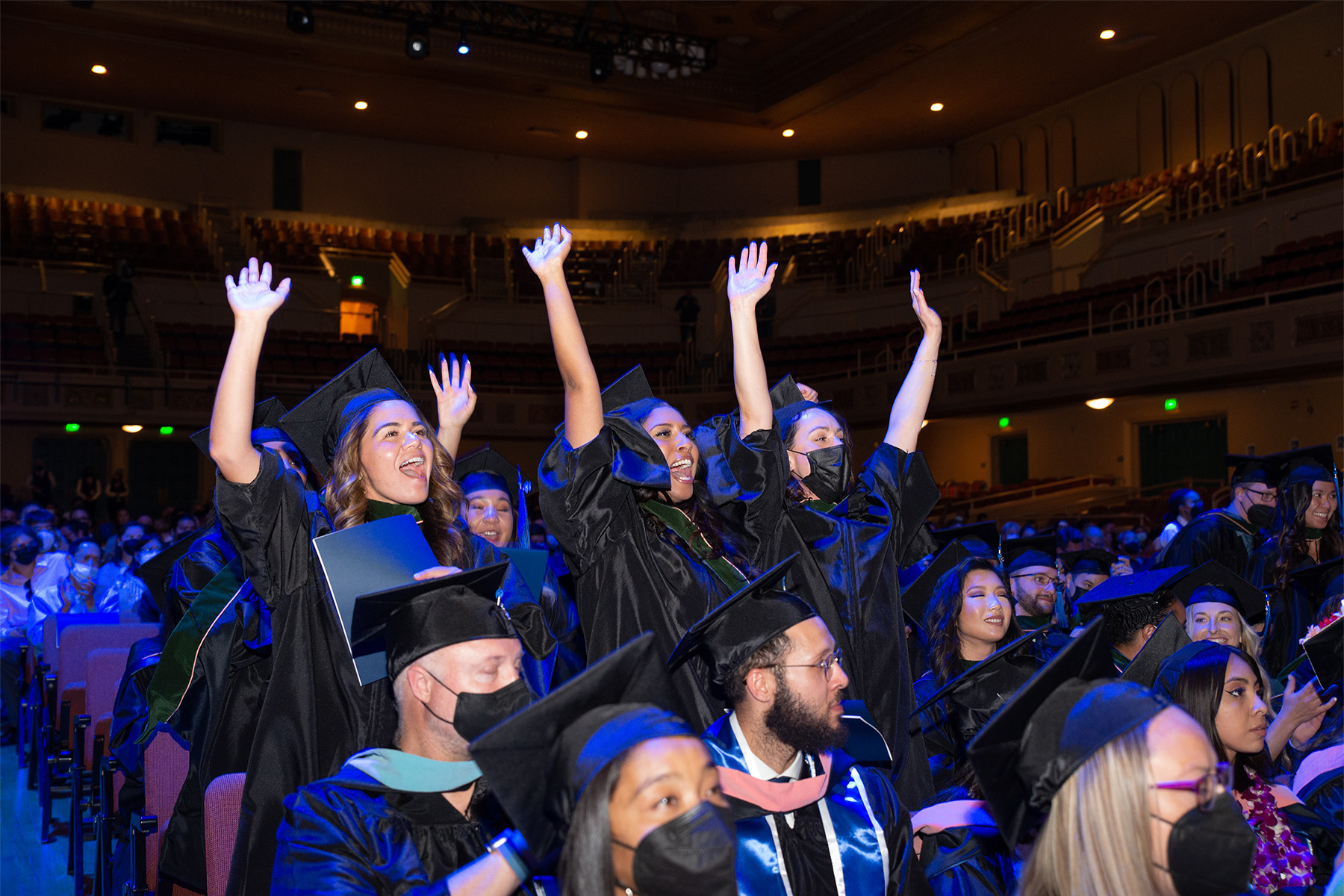 Commencement
University commencement is one of the biggest events in the academic world. Students receive the long-awaited reward for their hard work and dedication to getting their degrees, marking a vital steppingstone in a person's life.
On this page you can learn more about commencement's:
Dates & Times | Venue Details | Travel Info | Regalia & Mace
Celebrate The Class Of 2023
Join us and celebrate our commencement for the class of 2023 on May 22nd and 23rd. Our commencement includes the College of Osteopathic Medicine, the College of Education & Health Sciences, and the College of Pharmacy.
*Medical Health Sciences (MSMHS) May 15th commencement information can be found here.
About The Venue
Address:
Sacramento Memorial Auditorium (aka SAFE Convention Center)
1515 J Street
Sacramento, CA 95814
Venue Requirements:
Attendees must enter through metal detectors at the venues entrance.
Bags must be clear and a size of 6"x 8"x 1" or smaller.
Clear, unopened water bottles, or empty clear water bottles are permitted.
Flowers and leis are allowed.
Please, no balloons or air horns. If you have these items on you, you will not be permitted to enter the venue.
COVID regulations require all guests over the age of 2 to wear a surgical mask to enter the venue. No proof of vaccination, nor recent negative COVID test are required.
Accommodations:
For requests or concerns about specific accommodations please contact Pedro Martinez pmartine6@touro.edu
Ticketing Information
All guests will need a ticket to attend the ceremony except for small children that will be carried or will sit on someone's lap. Tickets will be provided by your graduate.
LIVESTREAM COMMENCEMENT!
On the day of each event the Graduation will be broadcasted live from Touro California's YouTube Channel.
College of Pharmacy Livestream College of Education & Health Sciences Livestream College of Osteopathic Medicine Livestream
Travel Information
Venue Parking
There are many close parking garages, parking lots and street parking near and around the venue in downtown Sacramento. There is a parking lot across the street from the venue, street parking all over the area, as well as parking structures a few blocks away.
Nearby Airports
In order of closest miles away from venue:
SMF Sacramento International Airport is 11 miles away
OAK Oakland International Airport is 91 miles away
SFO San Francisco International Airport is 99 miles away
SJC San Jose International Airport is 117 miles away
Sacramento Visitor Information
The following links provide more information about hotels, restaurants and things to do when in Sacramento.
About The Regalia & Mace
Meaning of the Regalia
The most obvious and visible part of a commencement is graduation regalia, which enhances the experience and builds ties with a tradition that reaches back nine centuries. Today, it's hard to imagine any graduation without regalia and special graduation attire that symbolizes graduate status and has a strict set of rules depending on the type of diploma given.
Most of the academic regalia traditions in the United States were carried over from Europe. But they have also evolved in subtly different ways across different educational institutions. Academic regalia first developed when universities started forming in the 12th and 13th centuries. Students and teachers typically wore clerical clothing because the Christian church was highly influential at this time. Many professors were priests, monks or clerics and their students were usually studying to do something similar. Historians believe scholars wore long robes and hoods to keep warm in the unheated buildings on their campuses.
The significance of the hood dates back to Celtic Groups and Druid priests who wore capes with hoods that symbolized higher intelligence and authority. While medieval universities initially inspired the academic dress, the first recognized schools that officiated graduation attire were Oxford and Cambridge. By 1321, they "forbade excessive apparel" in universities requiring everyone to wear long gowns during ceremonies to create unity.
The graduation hat has changed throughout the centuries and with many variations. The most prevalent style is the mortarboard cap which is worn with the bachelor and master graduation gowns. These caps are believed to have been developed in the 15th century evolving from hats known as birettas used by Catholic clerics, scholars, and professors. The origin of the biretta dates back as far as 1311 in Christian churches. Black velvet tam with a golden tassel are worn those with and receiving doctoral degrees.
In addition to the differences in head wear, three stripes (chevrons) on bell shaped sleeves indicate that the wearer has a doctoral degree. Master gowns have no stripes on their oblong sleeves that are cut in an arc shape in the front. Certificate, associate, and bachelor degree recipients wear gowns with long pointy sleeves.
A hood indicates that the wearer has a higher academic degree than a Bachelor degree. Typically, the hood is black with the exposed inside (lining) representing the colors of the institution where the degree was earned. The narrow strip on the collar part (band) of the hood indicates the discipline of the degree the wearer has earned. The hood length also reflects the degree earned, 3' for masters and 4' for doctoral hoods.
Each discipline has their own band color:
Agriculture - Maize
Arts, Letters, Humanities - White
Commerce, Accountancy, Business - Drab
Dentistry - Lilac
Economics - Copper
Education - Light Blue
Medicine - Green
Music - Pink
Nursing - Apricot
Oratory (Speech) - Silver Gray
Pharmacy - Olive Green
Philosophy - Dark Blue
Physical Education - Sage Green
Engineering - Orange
Fine Arts, including Architecture - Brown
Forestry - Russet
Journalism - Crimson
Law - Purple
Library Science - Lemon
Public Admin, including Foreign Service - Peacock Blue
Public Health - Salmon Pink
Science - Golden Yellow
Social Work - Citron
Theology - Scarlet
Veterinary Science – Gray
About The Mace
The academic mace is a long staff generally constructed of wood, metal and gemstones. These devices are descended from war clubs that were carried in medieval times by the bodyguards of civil officers. As time progressed, they became symbols of royal authority. The earliest maces were carried by sergeants at arms in England in the early 12th century. Today the academic mace is used for formal university occasions when participants and in their full regalia and is a symbol of the authority vested in the university by its governing bodies, including is Board of Trustees, university leadership, Faculty Senate, and accrediting bodies. It also symbolizes the shared governance of the university administrative leadership and faculty. Finally, it is an important reminder of the transformative power of education and the educational process.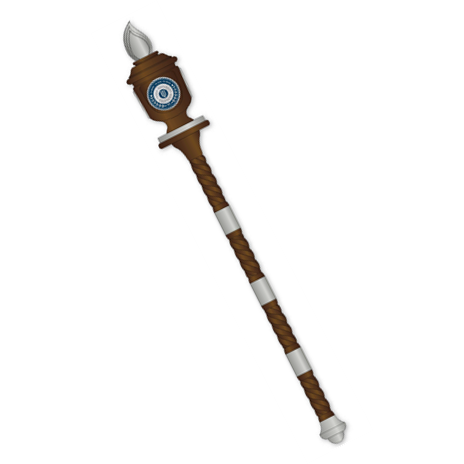 Touro University's mace is made from a 42 inch walnut staff with a lantern and flame at the head of the mace to symbolize the enlightenment of knowledge and the education process. Each of the four faces of the lantern contain the university seal. The handle is made with a spiraling pattern with three silver bands. This represents the progressive journey through the educational process to the ultimate goal illustrated on the mace head.
---