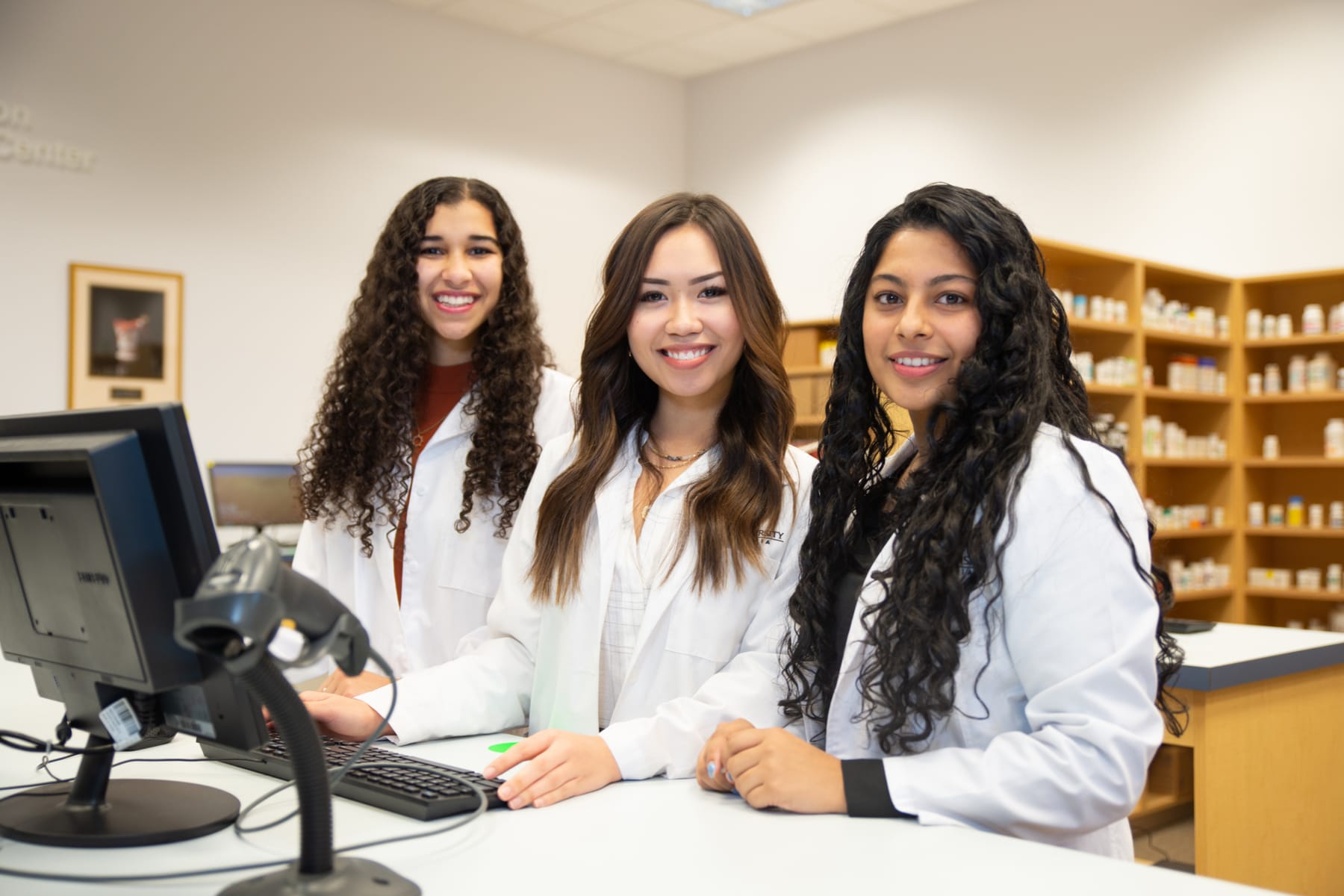 Admissions
We're thrilled to have you join our passionate community where the possibilities are endless!
Learn about our application process, deadlines, academic requirements and more. We look forward to reviewing your application!
How to Apply
All applications for Touro University California's College of Pharmacy (COP) are submitted through the Pharmacy College Application Service: PharmCAS. Take a look at what's required to apply, then begin your journey with us!
Deadline & Start Terms
June 1 is the application deadline. Between June 1st and June 20th, applications may be submitted by request only. If you wish to submit your PharmCAS application, please email your full name and PharmCAS ID number to tuc.admit@touro.edu.
Program begins in the Fall. Because our program is on a rolling admissions cycle, deadlines can be moved up. We strongly encourage you to submit your application and all supporting materials as soon as possible for the best chance of admission.
Application Criteria
Throughout the application process, we evaluate candidates based upon a variety of criteria, including the following:
Academic competence
Personal/professional achievements
Demonstrated leadership skills
Exposure to/experience in pharmacy
Verbal, non-verbal, and written communication skills are important to your success as an applicant and, ultimately, as a pharmacist. All three skill areas are actively assessed during the admissions process. If you have difficulties with one or more of these areas, seek assistance from tutors or other specialists.
Academic Requirements
We require minimum science and cumulative GPAs of 2.75. In cases where either the cumulative or science GPAs fall below 2.75, we may conduct a secondary review focusing on the most recent 30 units of chemistry, biology and other physical sciences coursework.
A bachelor's degree is not required. Including specific course requirements listed below, you must complete a minimum of 72 semester units or 108 quarter units of degree-applicable coursework. Coursework and any completed degrees must be completed at an institution of higher education accredited by a TUC approved accrediting body (See Institutional Accreditation Requirement below).
The PCAT is not required.
TIP: It can take several weeks for a school to provide transcripts. Ask for them early and follow up to make sure they are sent. Missing transcripts are the number one reason for delays with the PharmCAS system.
Minimum Course Requirements
At a minimum, you must complete the following coursework with a grade of "C" or better:
You must satisfy Chemistry Option 1 or Option 2.
| Class | Credits |
| --- | --- |
| Chemistry Option 1 | |
| General Chemistry | 8 semester or 12 quarter units, with lab |
| Organic Chemistry | 8 semester or 12 quarter units, with lab (may substitute 4 semester units of Biochemistry for 4 semester units of Organic Chemistry) |
| Chemistry Option 2 | |
| General Chemistry | 4 semester or 6 quarter units, with lab |
| Organic Chemistry | 8 semester or 12 quarter units, with lab |
| Biochemistry | 4 semester or 6 quarter units, with lab |
| Other Required Classes | |
| Human Physiology | 3 semester or 5 quarter units, lab not required |
| Microbiology | 4 semester or 5 quarter units, with lab |
| Calculus | 3 semester or 5 quarter units |
You must complete all required coursework prior to the start of classes. You may apply and receive acceptance provisionally if you're missing required coursework at the time of your application.
Advanced Placement (AP) Credit
We accept advanced placement credit as long as such credit appears on the undergraduate transcript and indicates either specific subject credit (e.g. General Chemistry - 4 units) or specific course credit (e.g. Chem 101 - 4 units). General advanced placement credit without such specifications is not accepted.
Letters of Recommendation
We require one letter of recommendation. It can be from any source, excluding family members. To the best of their knowledge, your letter writers should address personal traits and accomplishments which demonstrate your ability to succeed in professional school.
Your letter of recommendation should be submitted using the PharmCAS letter service. Letters of recommendation are used for admissions purposes only and do not become part of the official academic record.
TIP: Politely follow up with your letter writers to insure letters are sent in a timely manner.
Additional Letter Submission Methods
Letters of recommendation must include the applicant's full name and PharmcAS ID number. Submission of letters outside of the PharmCAS letter service will delay application review.
Email letters to the Office of Admissions at tuc.admit@touro.edu. This is the preferred method of submitting letters of recommendation after the initial submission of your PharmCAS application. Emails must come directly from the letter writer.
Mail letters, via US mail, to Touro University California, Attn: Pharmacy Admissions, 1310 Club Drive, Vallejo, CA 94592. Letters must be mailed directly from the letter writer.
Citizenship Requirement
Individuals who have met all application requirements and permanently reside in the United States at the time of application, inclusive of DACA recipients, are permitted to apply and matriculate at Touro University California. Currently, TUC does not accept international students.
Eligibility for Federal Financial Aid is limited to US Citizens and US Permanent Residents. Candidates applying without US Citizenship or Permanent Residency are strongly encouraged to explore financing options before proceeding with the application process. Additional information may be viewed by visiting the Eligibility Requirements on the Financial Aid page.
Institutional Accreditation Requirement
Touro University California will accept coursework and degrees from institutions accredited by one of the seven institutional accrediting agencies listed below:
Higher Learning Commission (HLC)
Middle States Commission on Higher Education (MSCHE)
New England Commission of Higher Education (NECHE)
Northwest Commission on Colleges and Universities (NWCCU)
Southern Association of Colleges and Schools Commission on Colleges (SACSCOC)
WASC Senior College and University Commission (WSCUC)
Accrediting Commission for Community and Junior Colleges (AACJC)
Applicants who have completed degrees and/or coursework outside of the United States must have their transcripts evaluated by a TUC approved agency to verify equivalency to those offered by institutions accredited by one of the accrediting agencies listed above. For a list of TUC approved evaluation agencies, please refer to the Graduates of Foreign Institutions section of this website.
Graduates of Foreign Institutions
Except in cases where the institution is accredited by one of the agencies approved by Touro University California, all coursework completed outside of the United States must be submitted for evaluation using one of the approved evaluation agencies.
Approved Evaluation Agencies:
Evaluations must be sent directly from the evaluation service to tuc.admit@touro.edu; evaluations received from applicants will not be processed.
Transcript Evaluations Must Include:
Course by course evaluation
Number of semester units each course is worth
Letter grade for each course
Cumulative GPA
Indication the degree earned is equivalent to a degree from a TUC approved accrediting body.
Admissions Interview
Applicants who demonstrate potential to perform well in our program will be invited to interview. Considerable screening occurs prior to an interview. If you're invited to interview you should feel encouraged that, on paper, the Committee feels you are competitive. Interviews typically take place from September through May. We do not interview solely for wait-list spots. If we are still interviewing, candidates are still being accepted. During the interview, a panel will evaluate your verbal, non-verbal, and written communication skills. One candidate at a time will interview with a panel, though other parts of the interview may be with a group of candidates. We encourage candidates with difficulties in any of these areas to work with a tutor or specialist prior to their interview. Among other things, the panel looks for:
ability to articulate in front of colleagues
critical thinking skills
listening skills
sensitivity to others
knowledge of current events in pharmacy
The interview includes an essay and calculations assessment as described below.
Note: Touro University California complies with Section 504 of the Rehabilitation Act and the Americans With Disabilities Act by providing reasonable accommodations to candidates for admission with known disabilities. We strongly encourage you to contact the Office of Admissions at least three (3) days before your scheduled interview if you will require accommodations.
TIP: No news may not be good news. Check your junk mail folder to make sure you are not missing important emails.
Interview Day Essay
All candidates who interview for the College of Pharmacy will be required to compose an essay as part of the interview day. Candidates will be asked to read a specific passage, then define a word used within the passage and respond to a prompt related to the passage. Because topics are never released prior to the interview, the Admissions and Standards Committee has offered the following suggestions for those wishing to prepare:
Passages may not be specific to pharmacy.
A few minor grammatical and/or spelling errors will be overlooked.
Comprehension and critical thinking are important. You must be able to show that you know both the meaning of the passage and how it relates to specific, current situations.
Make sure you answer the question that is being asked and that your position is adequately defended.
Make sure to complete your essay in the time allotted (45 minutes).
The Admissions Committee has determined that writing ability (substance and form) is a key indicator for likelihood of success in the College of Pharmacy. Candidates for whom writing is a difficult task are strongly encouraged to practice their writing skills, either by taking additional English courses or by seeking directed tutoring, prior to their interview.
Interview Day Calculations Assessment
All candidates who interview will be required to complete a short, 5-question calculations assessment.
Post-Interview & Acceptance
The Admissions and Standards Committee typically meets every week to discuss candidates and make recommendations to the dean. Decisions are made and candidates notified following the dean's review.
Within two weeks of the date on their letter of acceptance, all accepted students are required to pay an initial, non-refundable deposit of $200. A second, non-refundable, non transferable $1,000 deposit is required by May 15.
Background Checks
Incoming and current students may be required to submit to a background check before and/or during their enrollment at Touro University California. Facts uncovered as a result of a background check which could preclude licensure and/or practice in the profession may impact their ability to begin or continue their education at the University. Details are provided with the letter of acceptance.
Multiple Deposit Policy
Applicants to Touro University California (TUC) may also choose to apply to and submit seat deposits for other programs located within TUC or the greater Touro University System (TU). TUC applicants who have deposits at one or more TUC or other TU programs will be given until April 15th (for summer starts) or June 1st (for fall starts) to decide which program they wish to attend and will be required to withdraw from all other TUC/TU programs to which they have deposited. TUC applicants who are accepted and who submit seat deposits after April 15th (for summer starts) or June 1st (for fall starts) will be required to immediately withdraw from any other TUC/TU program(s) to which they have deposited.