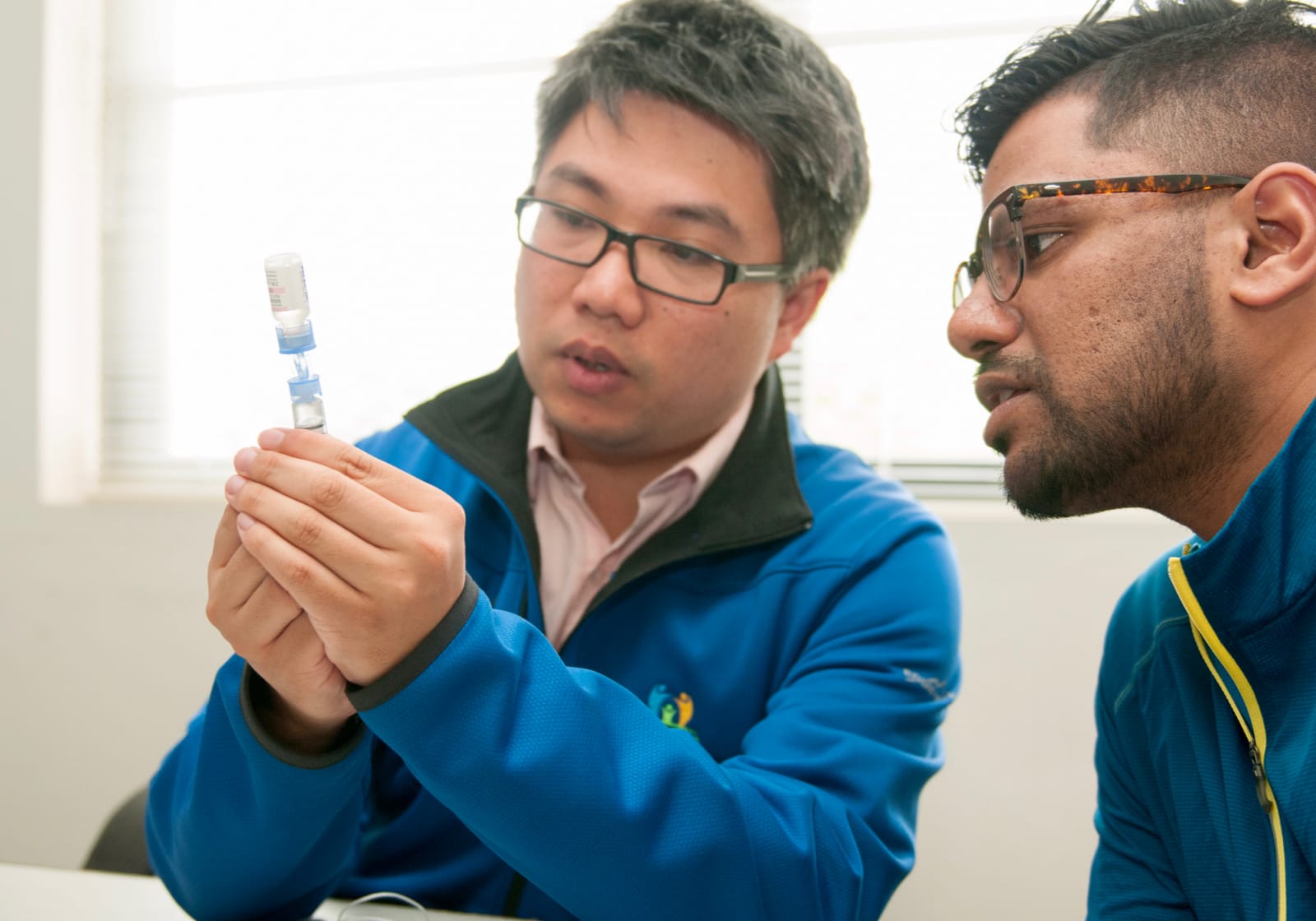 Diabetes Certificate
Graduate with expertise in diagnosing, managing, and preventing Diabetes Mellitus.
You'll learn and apply that knowledge beyond the standard diabetes curriculum. Our curriculum aligns what you're taught in the classroom with real-world advances in the field of diabetes. You'll graduate better prepared for post-graduate training and patient-care responsibilities related to diabetes and its complications.
How Does It Work?
Rather than traditional courses and classes, you'll take part in this program on Canvas, our online learning management platform. All students will be enrolled on this platform upon matriculation, and your progression will be tracked in Canvas as you complete modules and activities.
There are four components to the program:
Didactic
A series of online, on-demand lectures where you will acquire knowledge, new ideas, and new developments in the field of diabetes.
Knowledge-Application
Virtual and in-person group discussion environments with an interprofessional-education approach that encourages the application and consolidation of information acquired from the didactic component.
Experiential-Activity
Apply the knowledge and skills acquired from the didactic and knowledge-application components in real-world situations and scenarios.
Self-Reflection
An opportunity to reflect and think about the series of learning activities you have been through aligning your experiences with a "Big-Picture" topic and projecting how the additional diabetes-focused learning experiences might prepare you for your future career and professional development
Program Requirements
The program is flexible and student-driven. You fit the requirements in the way that works best for you, with these requirements.
The didactic and knowledge application components must be completed during pre-clinical years.
You cannot progress to the experiential component of the program until you have completed the first two components, didactic and knowledge application.
Experiential-Activity Component must be during your clinical or rotation years.
You must complete all requirements prior to the end of March in your graduating year (e.g., Class of 2025 – March 31, 2025).
The teaching team highly recommends that anyone interested in participating join the learning platform during the first semester. After joining, you are encouraged to continually check in with the teaching team and visit the Canvas platform throughout the pre-clinical years to make sure adequate progression is made.
What You'll Learn
Within the Diabetes Certificate Program, you will build upon and continue gaining and refining the knowledge that acquire from your degree programs. You'll also:
Gain a thorough understanding of:
different types of diabetes
digital health and technology for the care of people with diabetes
behavioral and lifestyle aspects in effective diabetes care
behavioral aspect in chronic disease management
the newest pharmacological agents for the management of diabetes and the reduction of related complications
diabetes through the lens of health equity and social determinants of health
Develop competency in:
clinical management of diabetes through applying evidence-based medicine (EBM), integrating various aspects to deliver a patient-centered, whole-person approach in diabetes management (e.g., nutrition, therapeutic modification, lifestyle changes)
serving subpopulations, e.g., LGBTQIA+, pediatrics, geriatrics, pregnancy, etc.
When you graduate, you'll be armed with an understanding of clinical diabetes and the ability to contribute to a community-based intervention to improve the screening, diagnosis, and treatment of diabetes and its complications.