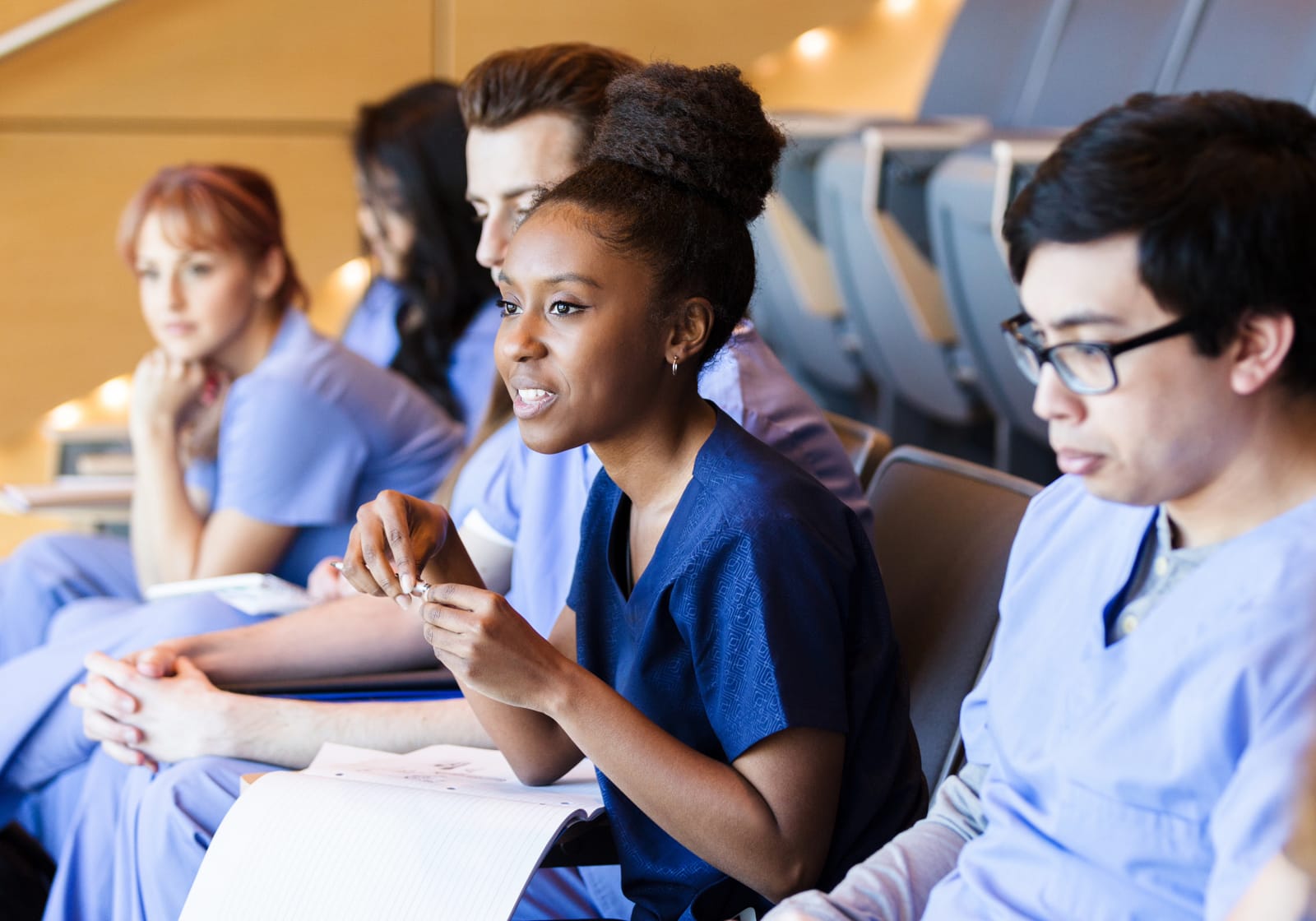 Admissions
Interested in a rigorous, full-time PA program that prepares you for a fulfilling career in medicine?
We're looking for motivated applicants who are inspired to take on the challenges of the field and meet the increased demand for qualified PAs.
How to Apply
Before applying, review our admissions requirements and technical standards in detail. Once you've gathered everything you need, you can submit your application through CASPA.
All applications and supplemental documentation must be submitted and received by our office no later than the application deadline. CASPA recommends submitting materials at least four (4) weeks in advance of the application deadline date.
Please Note: All payments made during the application process are non-refundable. CASPA is an outside application service and does not offer refunds based on the accreditation status of a program.
Application Deadline
Proposed Start Term: August

Proposed Application Deadline: April 1
CASPA recommends submitting all required materials at least four (4) weeks prior to any PA Program deadline. All applications must be verified by the application deadline.
Who Should Apply
What are we looking for in a student? It's important to possess a love of medicine and a desire to provide health care with compassion and empathy to patients of diverse ethnic, cultural, and religious backgrounds. You should also be comfortable with the concept of the PA as a member of the healthcare team, a role that demands intelligence, sound judgment, intellectual honesty, and the ability to relate to people.
As an applicant to our MS Physician Assistant Program, by the time of enrollment, you should have completed a baccalaureate degree that includes specific prerequisite coursework, listed below in "What You'll Need to Apply."
Is the PA Program Right For You?
The path to becoming a physician assistant can be challenging, yet the satisfaction gained from making an impact on the healthcare system and individual patients can't be matched. Here are some factors to consider before submitting your application:
This intense 7-semester graduate-level program requires personal as well as financial sacrifices, and demands a high degree of self-sufficiency and well-developed study skills.
Due to the formidable challenge the PA program presents both in the didactic and clinical years, we highly recommend students not work while enrolled in the program. The success of each candidate is often directly related to their ability to focus solely on their commitment to their studies.
During the clinical phase, you must be adaptable to variations in scheduling, location of clinical sites, and scope of responsibilities.
The profession requires working with those who are ill and interacting effectively and cooperatively with doctors, nurses, and other members of the health care team.
You will need to complete the same coursework throughout the 28 months of the program, even if you already took similar courses.
Advanced placement is not granted for the Los Angeles PA program. It's necessary that you complete the full curriculum as delineated in its entirety.
What You'll Need to Apply
Your baccalaureate degree must be completed at an institution of higher education accredited by a TUC-approved accrediting body (See Institutional Accreditation Requirement below).
Minimum cumulative 3.0 GPA
A 3.0 minimum cumulative GPA for all college-level coursework completed.
A 3.0 minimum science GPA
A 3.0 minimum combined science GPA from all colleges attended. All Biology, Chemistry and Physics grades are utilized to calculate science GPA or "BCP Total" as it appears on the CASPA application.
Successful completion of all prerequisite courses
Prerequisite Coursework
In addition to having a baccalaureate degree, an applicant must have the 52 credits of required prerequisite courses listed below with grades of "C" or better* from an institution of higher education accredited by a TUC-approved accrediting body (see Institutional Accreditation Requirement below).
An applicant may apply to the program with prerequisite coursework in progress, but all prerequisite coursework and baccalaureate degree must be completed at least one full semester prior to the start of the program. Pending coursework may delay review of the candidate's application.
Distribution of 52 credits of specific prerequisites:
| | |
| --- | --- |
| General Biology I & II (with labs) | 8 credits |
| General Chemistry I & II (with labs) | 8 credits |
| Organic Chemistry or Biochemistry | 4 credits |
| Anatomy & Physiology | 8 credits |
| Behavioral Sciences (e.g., Psychology, Sociology, Anthropology) | 6 credits |
| English Composition and/or English Literature+ | 6 credits |
| Humanities (e.g., History, Philosophy, Languages, Literature, Art) | 6 credits |
| Mathematics (pre-calculus level or above) | 3 credits |
| Statistics | 3 credits |
+ Applicants must provide catalog descriptions for English courses not taught by an English department (e.g. through a core curriculum or honors program) if requested by the Office of Admissions.
Please note:
All prerequisite science courses must be designed for science majors. Consideration of science courses designed for non-science majors, e.g., liberal arts, nursing, respiratory therapy, is at the discretion of the Admissions Committee.
Applicants whose sciences prerequisites are more than 10 years will be required to take refresher courses unless exempted by the Admissions Committee.
The PA program does not award academic credit for experiential learning.
Meeting the minimum requirements listed above does not guarantee an interview or admission to the program.
All incoming students are required to have a personal computer for daily instructional and testing purposes
Submission of a completed CASPA application and Supplemental Application
All applicants are required to pay a $25 supplemental application fee using the payment instructions provided through CASPA. The payment transaction number must be included on the supplemental application forms before they are uploaded to CASPA. Separate supplemental application documents and a separate fee will be required for each Touro location that you choose to apply for through CASPA.
Submission of three letters of reference, including one from a Physician Assistant
Three (3) letters of recommendation. One of the letters of recommendation must be from a physician assistant. In order to confirm applicants have a clear understanding of the working relationship between physicians and physician assistants, the letter of recommendation from a PA cannot be substituted with a letter from another health care provider (i.e. RN, NP, paramedic)
Direct patient contact health care experience
You need to submit verification of a minimum of 200 hours of direct patient contact.

Verification of a minimum of 200 hours of direct patient contact health care experience, either volunteer or paid, must be documented on the Patient Contact Form and uploaded through CASPA. We recommend retaining a copy of this completed form for your records. It may be used if you are applying for a separate Touro location or a future admissions cycle. Direct patient contact hours must involve interaction with patients and can be obtained in a number of ways and may include either paid or volunteer positions. Some examples include, but are not limited to: volunteer in an Emergency Department transporting patients, volunteer in a doctor's office performing height and weight, vital signs, etc medical assistant or nurse's aide phlebotomist Licensed Practical Nurse or Respiratory Therapist EMT or Paramedic.
PA shadowing hours (recommended, not required)
PA shadowing is recommended but not required (documentation forms can be found in the Supplemental Application on CASPA).
If you choose to shadow a PA, the best way to acquire shadowing hours is to find a hospital that employs PAs that also has a volunteer program and sign up as a volunteer. While working as a volunteer, it is then often possible to shadow a PA in the facility. Many private offices that employ PAs will also allow a student to shadow the PA.


Submission of the personal statement
When possible, updated transcripts should be submitted to CASPA during the established academic update windows. Transcripts for courses completed after the CASPA academic update window has closed may be submitted electronically to the Office of Admissions (tuc.admit@touro.edu).
Graduates of Foreign Institutions
Except in cases where the institution is accredited by one of the agencies approved by Touro University California, all coursework completed outside of the United States must be submitted for evaluation using one of the following approved evaluation agencies:
When possible, evaluations should be submitted directly to the respective centralized application service (AACOMAS, PharmCAS, CASPA, SOPHAS, GradCAS, or NursingCAS). In the event submission to the CAS is not possible, evaluations may be submitted directly to the Office of Admissions.
Minimally, transcript evaluations must include the following information:
Course by course evaluation
Number of semester units each course is worth
Letter grade for each course
Cumulative GPA
Indication the degree earned is equivalent to a degree from a TUC approved accrediting body.
Citizenship Requirement
Individuals who have met all application requirements and permanently reside in the United States at the time of application, inclusive of DACA recipients, are permitted to apply and matriculate at Touro University California. Currently, TUC does not accept international students.
Eligibility for Federal Financial Aid is limited to US Citizens and US Permanent Residents. Candidates applying without US Citizenship or Permanent Residency are strongly encouraged to explore financing options before proceeding with the application process. Additional information may be viewed by visiting the Eligibility Requirements on the Financial Aid page.
Background Checks
Incoming and current students may be required to submit to a background check before and/or during their enrollment at Touro University California. Facts uncovered as a result of a background check which could preclude licensure and/or practice in the profession may impact their ability to begin or continue their education at the University. Details are provided with the letter of acceptance.
Multiple Deposit Policy
Applicants to Touro University California (TUC) may also choose to apply to and submit seat deposits for other programs located within TUC or the greater Touro University System (TU). TUC applicants who have deposits at one or more TUC or other TU programs will be given until April 15th (for summer starts) or June 1st (for fall starts) to decide which program they wish to attend and will be required to withdraw from all other TUC/TU programs to which they have deposited. TUC applicants who are accepted and who submit seat deposits after April 15th (for summer starts) or June 1st (for fall starts) will be required to immediately withdraw from any other TUC/TU program(s) to which they have deposited.
Institutional Accreditation Requirement
Touro University California will accept coursework and degrees from institutions accredited by one of the seven institutional accrediting agencies listed below:
Higher Learning Commission (HLC)
Middle States Commission on Higher Education (MSCHE)
New England Commission of Higher Education (NECHE)
Northwest Commission on Colleges and Universities (NWCCU)
Southern Association of Colleges and Schools Commission on Colleges (SACSCOC)
WASC Senior College and University Commission (WSCUC)
Accrediting Commission for Community and Junior Colleges (AACJC)
Applicants who have completed degrees and/or coursework outside of the United States must have their transcripts evaluated by a TUC approved agency to verify equivalency to those offered by institutions accredited by one of the accrediting agencies listed above. For a list of TUC approved evaluation agencies, please refer to the Graduates of Foreign Institutions section of this website.
Selection Process and Interview
Decisions on admission are made by a committee of PA program faculty, and are based on an assessment of the applicant's past academic performance, potential for success in the program, and his/her understanding of and commitment to the PA profession. The program does not favor special groups with respect to admissions. The program Admissions Committee evaluates an applicant's completed application and considers the following factors:
Quality and content of the personal statement
Strength of recommendations (minimum of three letters)
Strength of academic history
Cumulative GPA
Science GPA
Nature and extent of health care experiences
Nature and extent of PA shadowing (if done)
Leadership skills/experiences
Based on this evaluation, selected applicants are invited for a personal interview where they are assessed with regard to their understanding of the PA role, their motivation, maturity, intellectual qualities, insights, and interpersonal skills. The Admissions Committee and Committee Chair make the final decisions on admission to the program.
Admissions Appeals
Students who do not meet established grade point standards or other established admission requirements detailed above may petition the PA Admissions Committee in writing for consideration. The petition must accompany the application. It should clearly explain extenuating circumstances that have prevented the student from meeting existing grade point standards or other requirements and describe elements of the applicant's background that would indicate the potential for success in the program.
The Admissions Committee may choose to admit students who have not met established admission requirements, based on the student's petition, application, interview and other supporting documents required as part of the application process. Our PA Programs are highly competitive and applying with an Admissions Appeal does not guarantee further advancement in the admissions process, nor does it guarantee admission into the program. For applicants who already hold a B.A. or B.S. degree, prerequisite courses of certain types may be substituted at the discretion of the PA Program Director.