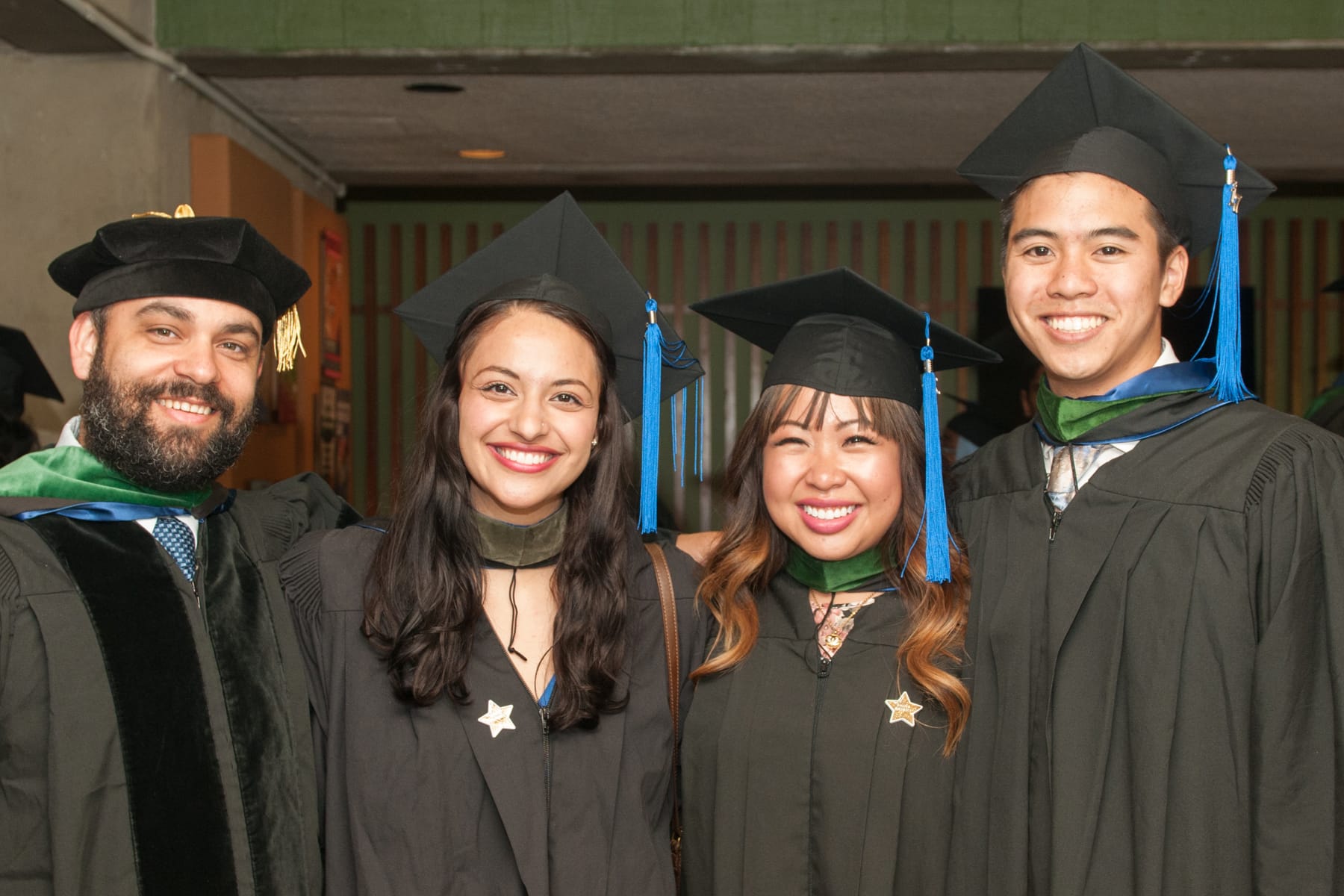 Admissions
At Touro University California we take great pride in our innovative and supportive Master of Science in Medical Health Sciences Program. We welcome your interest and hope you will consider becoming an MSMHS student!
Application Deadline
Our MSMHS program operates on a rolling admissions cycle, which means applications are reviewed and decisions are rendered throughout the admissions cycle until the class is full.
Complete application files are reviewed by the Admissions and Standards Committee and decisions are rendered within approximately two to four weeks of the date of submission and verification of all required materials. Notifications are sent via email and/or US mail. A waitlist will be utilized to fill openings as they occur following the close of the application cycle.
The program starts in the fall and the application deadline is July 1st.
All application materials must be submitted, received, and verified by PostBacCAS prior to this date or we may not be able to consider your application.
How to Apply
Applications for this program are submitted through PostBacCAS, the central application service for post-baccalaureate/master's programs. Before beginning the application, make certain you have access to transcripts from all colleges attended, contact information for those who will be writing your letters of recommendation, and standardized test scores (if applicable).
Application materials will be accepted up to the close of business on the application deadline date but applicants are advised to apply early for the best chance of admission.
Admissions Requirements
Minimum Academic Requirements
All applicants must earn a Bachelor's degree and complete all required coursework prior to the first day of mandatory orientation. Required degree and coursework must be completed at an institution of higher education accredited by a TUC approved accrediting body. Please see Institutional Accreditation Requirement information below. Minimum cumulative and science GPA's of 2.40 or greater are also required.
Minimum Pre-Requisite Coursework
Candidates for admission to the MSMHS program are required to complete the following coursework with a grade of "C" or better (a grade of C- does not qualify):
Biology - 8 semester units or 12 quarter units, with lab
Physics - 8 semester units or 12 quarter units, with lab
Chemistry Option 1 (Must satisfy Option 1 or Option 2)

General/Inorganic Chemistry - 8 semester units or 12 quarter units, with lab
Organic Chemistry - 8 semester units or 12 quarter units, with lab (may substitute 4 semester units of Biochemistry for 4 semester units of Organic Chemistry)

Chemistry Option 2 (Must satisfy Option 1 or Option 2)

General/Inorganic Chemistry - 4 semester units or 6 quarter units, with lab
Organic Chemistry - 8 semester units or 12 quarter units, with lab
Biochemistry - 4 semester units or 6 quarter units, with lab
Letters of Recommendation
Two letters of recommendation are required. One letter must be an academic reference from a professor from whom you have earned a grade. The second letter may be from any source, excluding family members.
Contact information for at least one letter writer must be entered into the PostBacCAS application.
PostBacCAS does not interface with Interfolio. Interfolio letter packets may be sent directly to Ms. Naisha Bible (naisha.bible@tu.edu).
Advanced Placement (AP) Credit
We accept advanced placement credit as long as such credit appears on the undergraduate transcript and indicates either specific subject credit (e.g. General Chemistry - 4 units) or specific course credit (e.g. Chem 101 - 4 units). General advanced placement credit without such specifications is not accepted.
Institutional Accreditation Requirement
Touro University California will accept coursework and degrees from institutions accredited by one of the seven institutional accrediting agencies listed below:
Higher Learning Commission (HLC)
Middle States Commission on Higher Education (MSCHE)
New England Commission of Higher Education (NECHE)
Northwest Commission on Colleges and Universities (NWCCU)
Southern Association of Colleges and Schools Commission on Colleges (SACSCOC)
WASC Senior College and University Commission (WSCUC)
Accrediting Commission for Community and Junior Colleges (AACJC)
Applicants who have completed degrees and/or coursework outside of the United States must have their transcripts evaluated by a TUC approved agency to verify equivalency to those offered by institutions accredited by one of the accrediting agencies listed above. For a list of TUC approved evaluation agencies, please refer to the Graduates of Foreign Institutions section of this website.
Graduates of Foreign Institutions
Except in cases where the institution is accredited by one of the agencies approved by Touro University California, all coursework completed outside of the United States must be submitted for evaluation using one of the approved evaluation agencies.
Approved Evaluation Agencies:
Evaluations must be sent directly from the evaluation service to tuc.admit@touro.edu; evaluations received from applicants will not be processed.
Transcript Evaluations Must Include:
Course by course evaluation
Number of semester units each course is worth
Letter grade for each course
Cumulative GPA
Indication the degree earned is equivalent to a degree from a TUC approved accrediting body.
Citizenship Requirement
Individuals who have met all application requirements and permanently reside in the United States at the time of application, inclusive of DACA recipients, are permitted to apply and matriculate at Touro University California. Currently, TUC does not accept international students.
Eligibility for Federal Financial Aid is limited to US Citizens and US Permanent Residents. Candidates applying without US Citizenship or Permanent Residency are strongly encouraged to explore financing options before proceeding with the application process. Additional information may be viewed by visiting the Eligibility Requirements on the Financial Aid page.
Guaranteed Medical School Interviews
TUC MSMHS students are guaranteed an interview with the TUC College of Osteopathic Medicine (TUCOM) and the Touro College of Osteopathic Medicine Montana Campus (TouroCOM Montana) during the next application cycle provided they satisfy the following criteria:
Follow the normal application processes for each medical school, which will include submission of new primary applications through AACOMAS, new secondary applications, letters of recommendation and all other required items. Specific application information may be found by visiting the TUCOM or TouroCOM Montana admissions websites, respectively.
Earn a composite (total) Medical College Admissions Test (MCAT) score of 490 or higher. Scores must be obtained within three years of the start of the application cycle during which you would be interviewing.
Earn a MSMHS program GPA of 3.00 or 80% (weighted by course units) or higher at the time of the interview.
Admission to medical school is very competitive; MSMHS students with a GPA and MCAT score in excess of these minimum requirements will face a much better chance of gaining admission to each medical school.
Timing of medical school interviews will be dependent upon individual circumstances, together with academic performance in the MSMHS program. Students are strongly encouraged to work closely with their MSMHS Academic Advisor and/or Program Director while considering when they should interview.
MSMHS students who qualify are guaranteed one interview with each of the medical schools mentioned above.
To avoid unexpected delays, all MSMHS students who plan to apply to the medical schools mentioned above should apply by no later than February 1st and should notify the Offices of Admissions (tuc.admit@touro.edu for TUCOM and admissions.tourocom@touro.edu for TouroCOM Montana) once their AACOMAS application has been submitted.
Application Review and Decisions
When all application materials have been received and verified, the applicant file is forwarded to the Admissions Committee for review. The Committee will determine whether the candidate is to be accepted, wait-listed, or denied.
Notifications will be made via email and/or US Mail within two to four weeks of the submission of all required application materials. Accepted candidates will be required to secure their seat in the cohort by returning a response form and required non-refundable deposit.
Multiple Deposit Policy
Applicants to Touro University California (TUC) may also choose to apply to and submit seat deposits for other programs located within TUC or the greater Touro University System (TU). TUC applicants who have deposits at one or more TUC or other TU programs will be given until April 15th (for summer starts) or June 1st (for fall starts) to decide which program they wish to attend and will be required to withdraw from all other TUC/TU programs to which they have deposited. TUC applicants who are accepted and who submit seat deposits after April 15th (for summer starts) or June 1st (for fall starts) will be required to immediately withdraw from any other TUC/TU program(s) to which they have deposited.
Background Checks
Incoming and current students may be required to submit to a background check before and/or during their enrollment at Touro University California. Facts uncovered as a result of a background check which could preclude licensure and/or practice in the profession may impact their ability to begin or continue their education at the University. Details are provided with the letter of acceptance.