White Coat Quartet Awarded
Quartet Awarded for Physician Assistant Achievement
March 02, 2022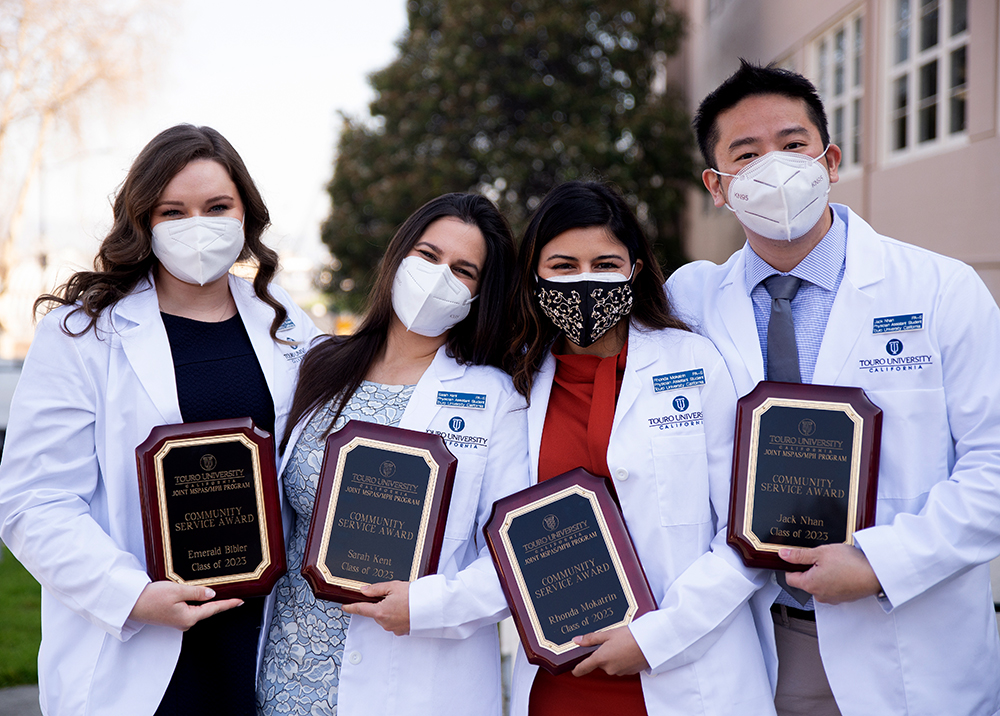 Physician Assistant Quartet with Achievement Award
Four Physician Assistant students with Touro University California earned special recognition, Feb. 4, during the PA White Coat ceremony.
PA students nominated and voted for four of their peers to receive special recognition for their efforts in the program, off campus, and in the community. Those four are Emerald Bibler, Sarah Kent, Rhonda Mokatrin, and Jack Nhan.
During the presentation of the awards, statements from nominating students were read to explain what made each recipient so special.
For Emerald Bibler, peers said, "She has gone above and beyond from the very start of school and has saved us so many times. Her organization skills are superb and, for that, I know the entire class is grateful." In fact, one student even suggested Bibler was the reason they hadn't failed out of the PA program.
For Rhonda Mokatrin, the praise was wide-ranging, One student said, "She does it all! From rebuilding the SRFC during the week, to advocating for Project Room Key on the weekends, to tutoring fellow students in the evenings. She has been a true representation of the Touro spirit, spreading community service and awareness throughout the Bay Area. She demonstrates excellence in all she does while encouraging and inspiring everyone around her."
Fellow students marveled at Sarah Kent's determination to be involved with the community even in the midst of the pandemic, saying Kent was, "amazing at keeping up their community service even during COVID," participating in numerous vaccination clinics, our mobile diabetes program and the Student Run Free Clinic.
Jack Nhan was noted for being highly involved with various aspects of the programs, with peers saying, "he is always willing to help wherever help is needed! Even if he can't physically be somewhere to volunteer he will always reach out and see what he can do virtually or behind the scenes!"
Program Director Joy Moverley and Provost/Chief Academic Officer Dr. Sarah Sweitzer praised the entire class for enduring great challenges presented by the pandemic, forcing the students to deal with a mix of in-person and virtual class settings.