Unhoused Calls
Street Medicine Takes Care To Curbside Communities
March 29, 2023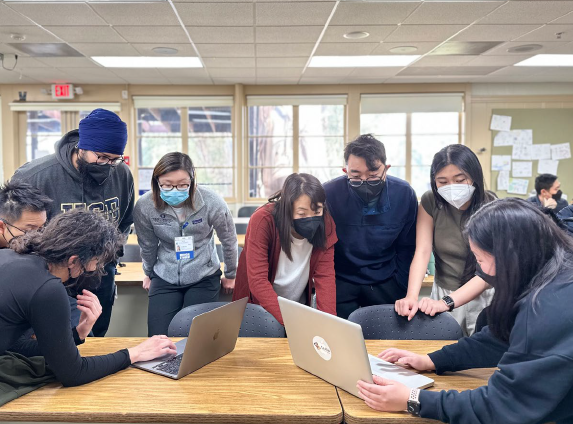 By most every measure, the rise in unhoused populations across the state of California has reached crisis proportions.
The factors contributing to this problem are multiple and layered and will likely take lengthy and sustained effort to address in a meaningful way. Nevertheless, there are tens of thousands of Californians living in curbside communities in tents, cars, and makeshift shelters clinging to their health and dignity.
Fortunately, the number of people working to aid the unhoused is also on the rise, particularly among the students at Touro University California. Dr. Michele Bunker-Alberts, an Assistant Professor with the School of Nursing, helps coordinate an interdisciplinary elective, known commonly as "Street Medicine," which focuses on unhoused populations in the Bay Area.
Along with Vallejo Mobile Health's Dr. Emily Fisher, and partnerships with CalAIM, and grant funding from Sutter Health and CVS, a team of care professionals made up of Touro students from the Joint MSPAS/MPH, College of Osteopathic Medicine (COM), and School of Nursing (SON) programs assist residents in these communities with some basic health screenings, as well as information on how to access care and services for which they may qualify for but be unaware of.
The elective now has nearly 40 students participating and Dr. Bunker-Alberts is hopeful the concepts taught here are eventually folded into the curriculum across Touro.
"We can even get this to the point where students could even come out and do a rotation with us," Dr. Bunker-Alberts said.
During a recent training session, the newcomers to the program were being taught some street medicine basics by students who have been part of the program before.
Most of the patients seen by the street medicine team don't have such basics as a digital health record, so students are taught how to enter patient information electronically, where it is kept on file by the street medicine team.
"For the most part, they (students) are trained to see patients in organized medical facilities," Dr. Bunker-Alberts said. "This offers them an expanded possibility. Why do we need to just see people in settings that are comfortable for us. We're seeing people where they are."
One aspect of street medicine is to allow students to see residents of curbside communities through a lens of compassion and humanity.
"We tend to not treat people in these communities with much respect," said student coordinator Gabriela Macedo, a second-year COM student at TUC. "Life can get you jaded, and I think it's important to not allow that to happen."
Fellow student coordinator Ji Kang, likewise a second-year COM student, agreed.
"It really opened my perspective. This has changed how I want to practice medicine," Kang said. "It has been really humbling. It helped bring me back to why I wanted to practice medicine in the first place."
The personal and professional benefits go hand-in-hand for Macedo.
"Not only is it helping me in my professional career, it's eye-opening. I see that I can end up there. Anyone can."
Heidi Molga, an OMM Fellow and street medicine training coordinator, agreed.
"We just had, what, 100,000 people in Silicon Valley get laid off in the last few months?" Molga said. "Nobody is immune from this."
Molga was one of the original students who helped with programs like Project Roomkey with Drs. Bunker- Albert and Fisher and wanted to help bring the street medicine experience to TUC as an elective.
Beyond medical experience, the students also learn how to deal with patients in a non-traditional clinic setting, even if it's on the street or inside a tent or something similar.
"Normally, patients are coming to a clinic to see you but in this case, you're entering someone's home, so the students get a lot of training on how to do so respectfully, and often it involves a lot of humility," Molga said.
To see so many students seeking this type of training is gratifying to Molga and the others who helped pioneer the elective.
"There's a lot of work to be done, so, many hands make light work," she said. "It's really rewarding to see students gain more confidence in their clinical skills and their communication skills before even going out to their rotation sites."