Rep. Thompson Announces Plan To Tackle 'Ghost Guns'
Gun violence costs taxpayers $280B annually, Thompson says
October 20, 2022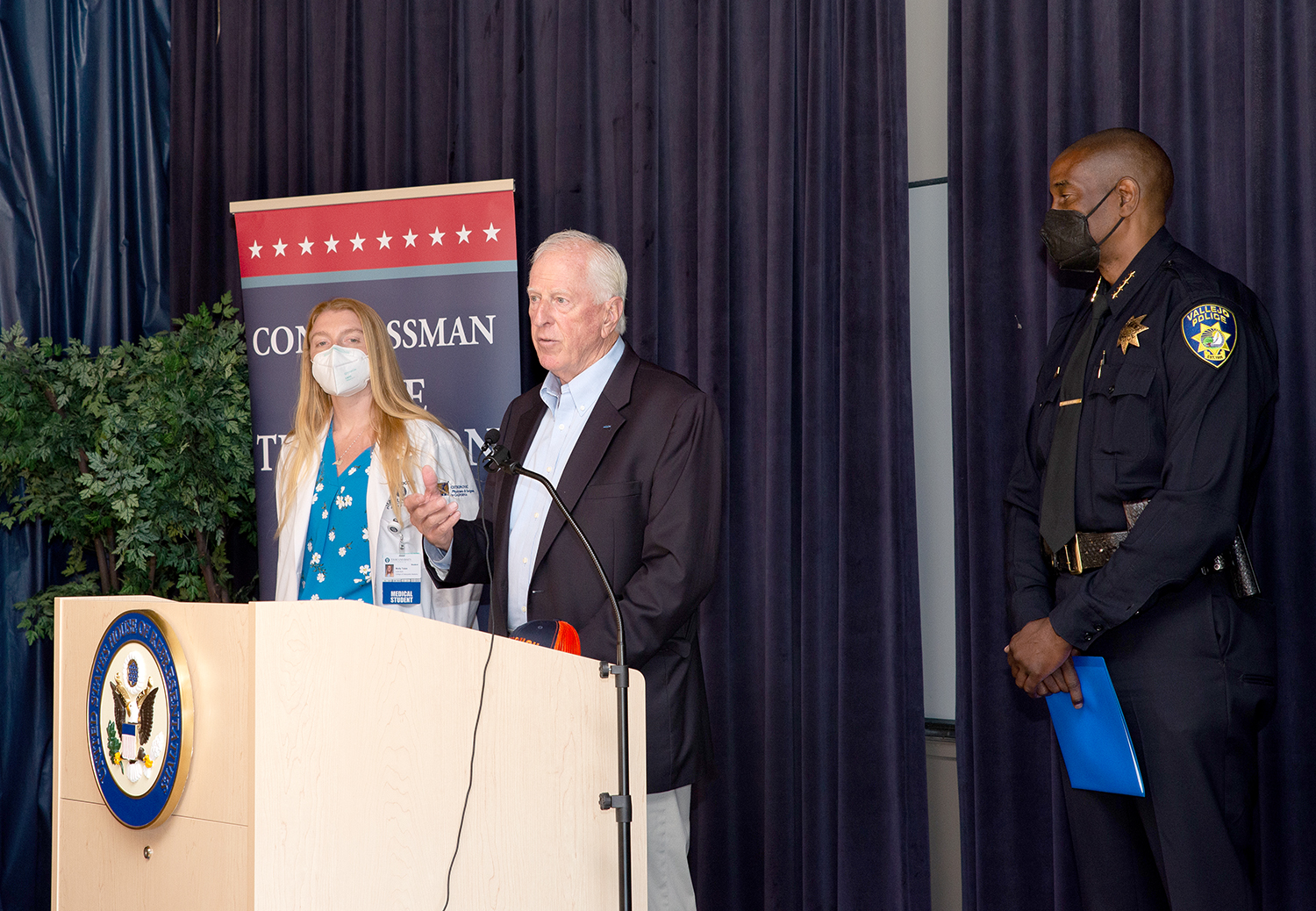 Student doctor Molly Tobin, Rep. Mike Thompson and Vallejo police chief Shawny Williams stand at a podium during a press conference dealing with a plan to get so-called ghost guns off Vallejo streets.
Rep. Mike Thompson spoke, Wednesday, at the Touro University California campus about his efforts, in partnership with the Vallejo Police Department and TUC to help address the issue of gun violence in America, a problem Thompson said is costing US taxpayers $280 billion annually.
"We've had enough of gun violence," Thompson said. He praised Vallejo PD for helping get so-called ghost guns off the streets, which was the focus of his press conference.
Ghost guns, Thompson said, are kits that include all of the parts needed to assemble a firearm and are often unserialized and sold without the need for background checks.
"You get the kit and within 15 minutes, you've got a working gun," he said.
He noted that, following the development of HR 1454 – which broadens the definition of "firearm" to include those made utilizing these kits – manufacturers have taken to simply selling the individual parts rather than packaging them together as a kit. "It's a problem that we're trying to crack down on," Thompson said.
Vallejo Police Chief Shawny Williams thanked the Congressman for his tireless and continued efforts related to gun violence prevention.
"As a police chief and loving father, my heart breaks for my community and the family members who have lost loved ones to gun violence," Williams said. "In the City of Vallejo, gun violence fueled by ghost guns has been a public health crisis for over a decade."
In 2021 alone, his department saw a 150% increase in the recovery of ghost guns, including an anecdote Williams related about an arrest Vallejo officers made that included dozens of ghost guns, some of those AK-style assault weapons, and more than 17 high-capacity magazines, Williams said.
Dr. Carinne Brody, a professor with Touro's Public Health program, explained that gun violence can have significant mental health impacts on the community at large, not just those directly targeted by gun violence.
As such, Dr. Brody explained Touro has worked with the County of Solano to develop SolanoConnex, a free app that helps connect people to vital mental health services throughout the county. The app has also been incorporated into free-standing kiosks placed in public locations such as library branches to increase the ease of access.
"We're so grateful to have been able to have partnered with the county to provide this service to residents," Dr. Brody said.
The ghost gun bill also has provisions for issues related to gun shows, mental health services, and school site safety.
"We can save lives, make our communities safer, and save tax money for other benefits to the community," Thompson said.