Sister Act
COP alumnus will present hood for graduating sister
May 15, 2022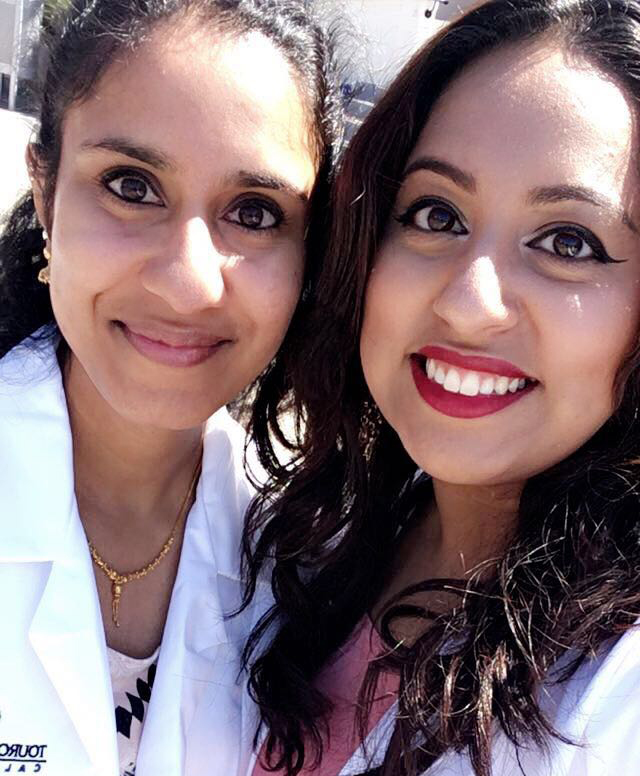 Drs. Benita and Cinita Cyriac
To call the Cyriacs a tight-knit family might be a bit of an understatement. When student-pharmacist Cinita Cyriac graduates in May, she will have a unique privilege that not many graduate students get. Doctoral degrees are distinguished by their colorful hoods that denote the area of study. Presenting this hood to the graduating doctor is often thought of as a high honor. In Cinita's case, she bestowed that honor to her sister, Benita.
Benita knows all-too-well the magnitude of earning a PharmD degree. She graduated from Touro University California just last year, and now Cinita will quite literally walk in her sister's shoes.
"To attend Touro at the same time when my sister, Benita, was attending Touro was such a blessing. We were able to live together, study together, teach each other, and most importantly create everlasting memories," Cinita said. "Pharmacy school was such a stressful part of both of our lives, but thankfully we had one another to support and motivate each other through every obstacle we had to overcome."
Benita echoed that sentiment.
"Experiencing pharmacy school together as sisters and classmates was amazing because we were each other's backbone. We were able to share our happy moments and struggles with each other," she said.
The pair came to Touro from the East Coast and really relied on one another to endure the rigors of pharmacy school.
"This experience made us even closer because in the beginning, we were all each other had," Benita said.
When Cinita found out the graduates would be able to have a guest hooder at the ceremony, she never gave her choice a second thought.
"The reason why I am asking my sister, Benita, to hood me is because of all of the memories we have shared together in our lives," Cinita said. "When I heard that we were allowed to have guest hooders, she is the first person I thought of asking because she is my older sister, she went to the same school as I did, and we have been each other's rocks throughout Pharmacy school. But most importantly, I have always looked up to her my entire life."
It's a request that isn't being taken lightly by Benita.
"I felt honored when Cinita asked me to serve as her guest hood presenter," Benita said. "I know what it's like to go through four years of pharmacy school and the struggles and stress that comes with it. So I knew exactly what Cinita went through. I've seen Cinita work so hard to get to where she is today and it meant the world to me that I was going to get the chance to be by her side on her big day."
The rest of the family, of course, will be able to share in the moment, as well, but for the two sisters, the hooding ceremony is the final chapter of an adventure that will live with them forever.
"I am so excited to say that my sister will be hooding me with my Doctor of Pharmacy hood," Cinita said. "I feel blessed to be able to share such a special moment in my life with my family, with my sister."