Physician Assistant Student In The ER
PA alumni returned to campus to help current PA students get up to speed in the fast-paced world of the ER.
March 17, 2023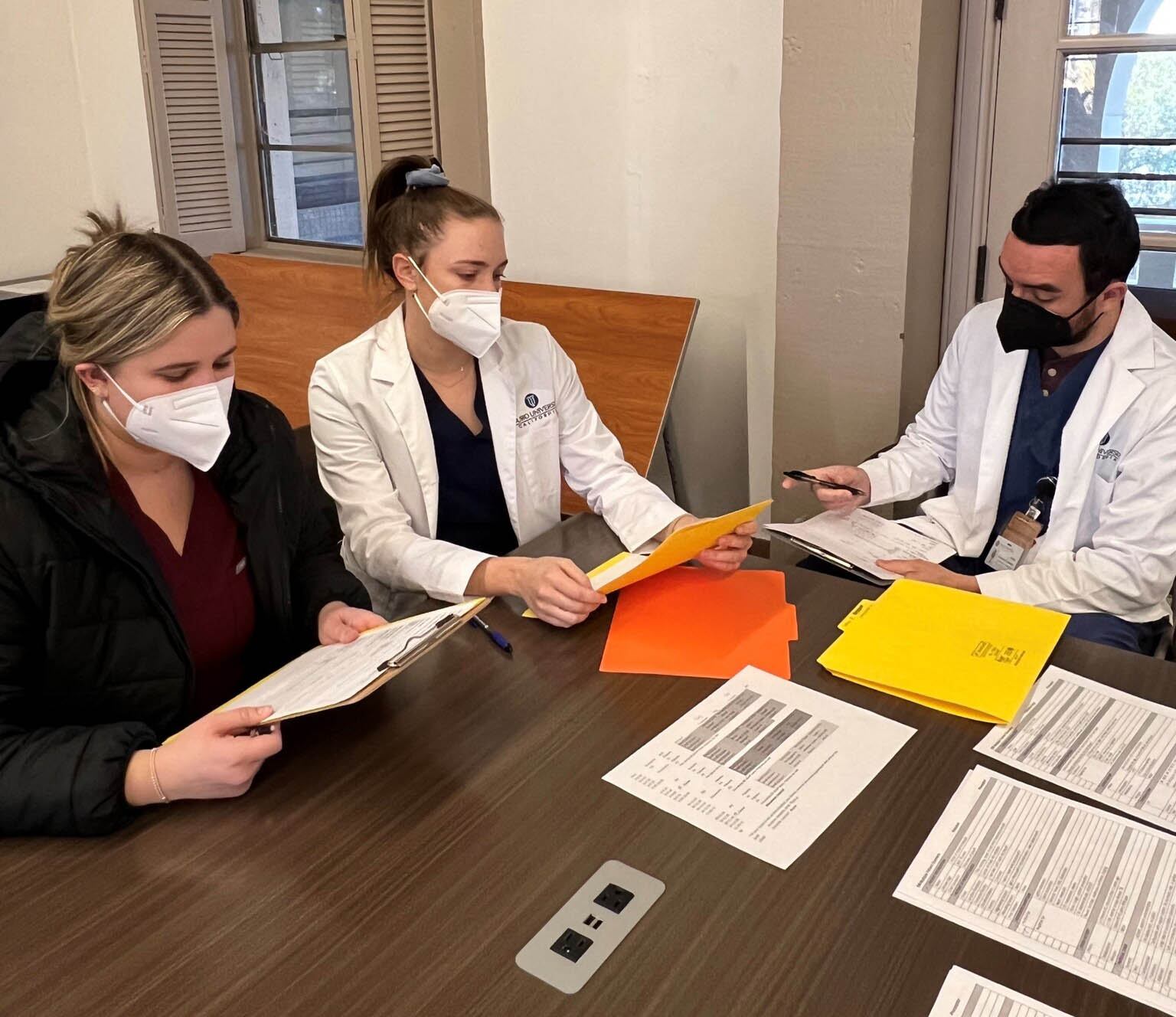 The Joint MSPAS/MPH program has taken steps to give current PA students as much of that experience as possible through some realistic simulations held at the end of November that were designed to help students understand the chaos inherent in the emergency department.
PA alumni with emergency medicine experience have joined the simulations as preceptors to ensure the simulations are as realistic as possible. Fellow alum and current program director Joy Moverley knows the students can handle the medicine aspect of the simulations. Her focus was primarily in exposing the students to the stress and pace of those scenarios and the need to be able to handle more than one patient at a time.
"I always say that waiting tables is probably the best preparation you can have for [emergency medicine]," Moverley said. "You have to be able to manage several things at once and constantly change how you prioritize your attention."
Students were in the Sim Lab, a realistic ER setting with a mannequin patient that can talk to the students and interacts with their treatment choices. Other groups were assigned to three different patients to manage, each portrayed by an actual person with a pre-set series of conditions and histories, and each with differing levels of triage urgency.
In the midst of managing those situations, a fourth unannounced patient showed up and students were required to adapt accordingly.
Most of the students had little to no experience in emergency medicine prior to the simulation training, so most found the experience very helpful.
"I really enjoyed the experience," said student-PA Ovanes Abramyan. "It's nice to take what we've been reading about and apply it. Even though it's a simulation, it still feels very real," he said.
His fellow student-PAs agreed.
"It's chaotic in there," said Gerardo Amador. "There are a lot of steps to check off when you're trying to save someone's life."
And in an emergency situation, medical providers don't have the time to sift through their notes from class.
"You don't have time to think back to that PowerPoint you saw," said Naomi Han. "To do it hands-on really helps you remember those steps in a stressful situation."
Special emphasis was placed in these scenarios on the stress. "They do a very good job of actually simulating how stressful the situation will be," said Lauren Fitzgerald.
PA alumnus Lisa Thomas, who works in emergency medicine, helped serve as a preceptor for the simulations and could really relate to everything these students experienced.
"I had no experience in the emergency department prior to working there – not even as a patient," Thomas said. "It was extremely intimidating the first time I stepped in there."
While the PA program is generally focused on primary care, work in the emergency department is not too far away from that core, Thomas said.
The work Moverley and the PA program are putting in is paying off, Thomas added.
"I work with students from different programs and the Touro students are always really well-prepared," Thomas said.
"Our curriculum is primary care focused, which is the mission of our program," Moverley said. "They're (students) used to seeing one patient at a time, so this is a very different experience for them. My hope is that this makes the students feel less anxious about this environment.