New School Year, New Faces for 2023
Profiles of five Touro University California first-year students
August 17, 2023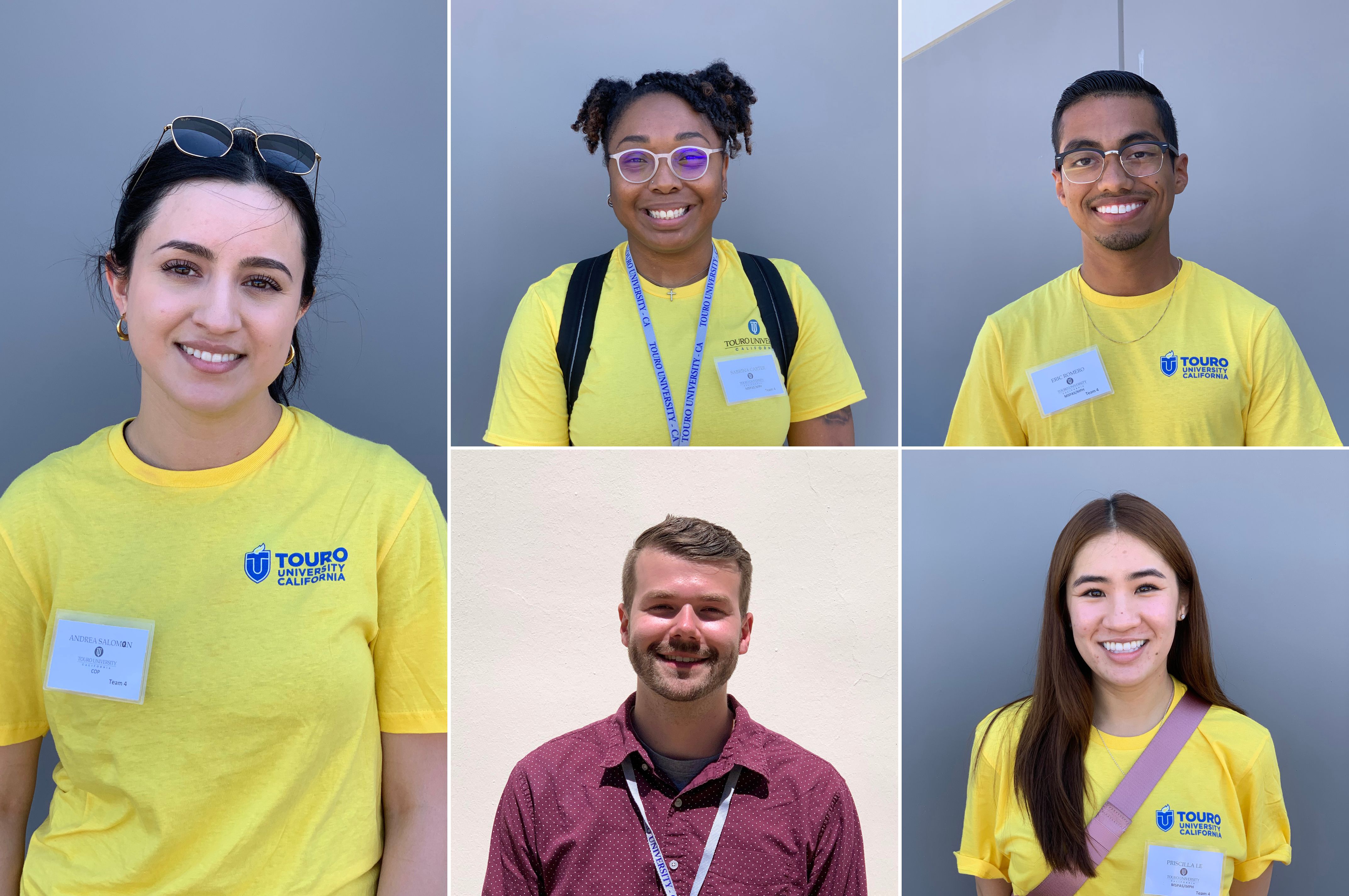 clockwise from left: Andrea Salomon, Sabrina Carter, Eric Romero, Tristan Rath, Priscilla Le
On orientation day the Touro University California campus, once quiet during the summer break, came alive with the bustling energy of a new school year. First year students gathered to begin their healthcare education. Different programs and life experiences have led people to the campus; here are the stories of five new students to Touro University California:
Andrea Salomon
Andrea Salomon's educational journey is a testament to her passion for science and its intersection with healthcare. Starting her undergraduate studies at UC Davis, renowned for its strong science programs, Salomon's love for chemistry and interest in healthcare led her to explore the pharmaceutical chemistry degree option. Her fascination with biochemistry classes during this time ignited her interest in pharmacy as she recognized the profound impact of medications at the molecular level. Taking two years as a gap year to work in various pharmacies, both corporate and independent, Andrea gained invaluable practical experience that solidified her commitment to the field. Salomon's journey reflects a deep-rooted connection to her community and a strong desire to make a difference in people's lives through proper medication usage. Her enthusiasm for biochemistry underscores her belief in the intricate relationship between medications and the human body, motivating her to pursue a fulfilling career in pharmacy focused on community well-being.
Sabrina Carter
Joint Master of Science in Physician Assistant and Master of Public Health
On the first day of orientation Sabrina Carter already has a friend base, feels some familiarity with the campus and faculty, and is mostly at ease. Her time in Touro's Bridge program provided her with a head start with knowledge of the facilities and other students. Carter grew up in Sacramento and after attending college in Monterey, lived there for 10 years, before coming back to the area. Her career aspirations as a Physician Assistant align with Touro's emphasis on community service as a distinguishing feature that resonates with her values and academic pursuits. A standout experience is the day of service volunteering at a local food bank. This opportunity has provided her with invaluable insights into Touro's core values and commitment to giving back. Witnessing the scale of impact and the meticulous organizational workings of the food bank has not only deepened her connection with the institution but also reaffirmed her choice to be part of an educational community that places a strong emphasis on social responsibility.
Eric Romero
Joint Master of Science in Physician Assistant and Master of Public Health
Eric Romero's decision to volunteer at a food bank was rooted in a desire to experience the process behind food distribution, as his parents had previously relied on the services. Having spent his formative years in the Bay Area, Romero pursued his undergraduate education at University of California, Santa Cruz, where he found a passion for healthcare and the role of Physician Assistants (PAs). This revelation set him on a path to further education, leading him to Touro University's PA program. What particularly intrigued him about Touro was its distinctive offering of a dual-degree track, allowing him to simultaneously earn a PA degree and a Master in Public Health (MPH). This blend of healthcare and public health aligned seamlessly with his interests and aspirations. Romero also highlighted the versatility within the PA profession; while some choose to undergo residency programs, most PAs can begin working directly after completing their education. His journey underscores a blend of personal experience, academic discovery, and a forward-looking approach to his healthcare career.
Tristan Rath
College of Osteopathic Medicine
Tristan Rath, a student of the Doctor of Osteopathic Medicine program, obtained an undergraduate degree in human physiology from the University of Oregon in Eugene. Motivated by a desire to help his community and influenced by his experiences as a Certified Nursing Assistant, Rath's interest in medicine deepened, guided by his uncle, a physician. Additionally, a D.O. physician at a clinic Rath volunteered, was also faculty at an osteopathic school. His introduction to osteopathic medicine's holistic philosophy and patient-centered approach through encounters with D.O. mentors led him to choose Touro for medical school due to its emphasis on community service and proximity to family. The pandemic underscored challenges in healthcare while inspiring Rath to seek front-line involvement and promote positive change within the system.
Priscilla Le
Joint Master of Science in Physician Assistant and Master of Public Health
Having grown up in the Westminster Garden Grove area of Southern California, known for its substantial Vietnamese community, Pricilla Le's personal connection to her heritage and the local demographic's needs influenced her interest in public health. Graduating from the University of California, Irvine with a degree in public health, Le's commitment to community well-being was solidified. Discovering the dual PA-MPH program at Touro, which aligned with her passions and goals, felt like a perfect fit. Participating in the Bridge Program for PA students provided a sense of comfort and familiarity. This approach facilitated a smoother transition into their academic journey and helped them integrate more seamlessly into their new educational environment.