Healing Haiti
NP student's school helps with nursing shortage
May 15, 2022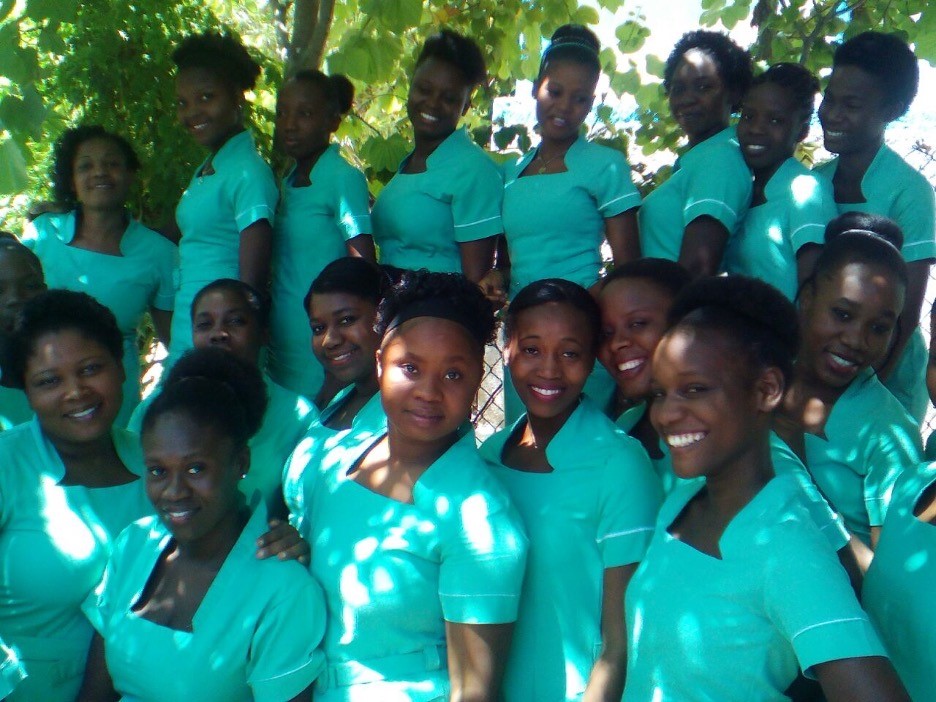 A class of Haitian nursing students
Nurses are one of those professions that, no matter how many there seem to be, there aren't ever enough. In developed nations, this can be an inconvenience for patients and put a strain on the existing staff. In countries with limited resources, it can be deadly.
Touro University California Nurse practitioner student Magdala D'Autruche knows this truth all-too-well. D'Autruche returned to her native home of Haiti following a massive earthquake in 2010 and witnessed the difficulties caused by a major nursing shortage in the island nation.
According to the United Nations, the 35-second tremor devastated the capital of Port-au-Prince, killing as many as 220,000, injuring 300,000 more and leaving 1.5 million homeless.
Humanitarian crisis was a bit of an understatement for what Haiti was experiencing at the time and D'Autruche knew conditions wouldn't improve much unless there was an increase in healthcare providers, particularly nurses.
The main problem was there wasn't anywhere for potential students to train.
D'Autruche didn't simply hope for a solution. She currently works at Alta Bates Hospital in Berkeley, has previous experience working in Britain's renowned National Health Service, and has a teaching background, as well. With this wealth of knowledge and experience, in defiance of the odds, she helped found a nursing school in Haiti in 2015.
The school quite literally began from the ground up and had to run on something less than a shoestring budget. The school initially charged students $20 a month to attend but this proved to be cost-prohibitive for most, so she later found a way to re-establish the school as free to students in 2016.
"I just knew the only way that this was going to improve was through us," D'Autruche said.
Despite limited resources, the school was able to include both didactic education and laboratory simulations for the students.
"We wanted to change the way care is delivered," D'Autruche said. She empathized with the strain doctors and nurses experienced in Haiti, "There is a shortage of doctors, of nurses, of supplies, sometimes a lack of pay," she said. "It's easy to see why there's so little empathy, but we don't want that to be the case anymore."
D'Autruche said the training isn't simply about literally putting a Band-Aid on the problem. Student-nurses, along with standard healthcare training, are also learning "empathic communication skills" so they can deal with patients who have experiences a lot of different forms of trauma over the years.
In nursing, however, quantity isn't very valuable without quality, as well, so D'Autruche was sure to include rigorous empathy training. From her own research through Touro's Doctor of Nurse Practitioner program, "empathy is defined as the ability to understand a patient's pain and suffering, combined with the capacity to communicate this understanding to meet their needs."
D'Autruche points out through her research project, "Lack of empathy in care in Haiti may be a contributing factor when patients are making decisions that affect their health. Often, patients choose to remain at home to care for themselves or their family rather than seeking medical advice."
Her school employs what is known as the NURSE acronym to help providers remember the process for empathetic communication: NURSE acronym helps guide responses to patient empathic statements:
N – Name the emotion to ensure that it is recognized; U – Understanding that conveys empathy and legitimizes patient emotion; R – demonstrate Respect by acknowledging the patient's strength as he or she goes through treatment; S – provide Support; and E – provide an environment where patients feel safe to fully explore their emotions.
This acronym for empathic opportunity and continuers provides a means for identifying and analyzing empathic communication.
Knowing they will be providing meaningful care through this communication process has helped attract potential students to the school.
Limited resources are preventing the school from expanding to a higher enrollment. As of April, as many as 30 students were still waiting just to take the appropriate entrance exams.
"I think we could easy have double the students, we just don't have the resources available to do that," D'Autruche said. One of those resources includes instructors, which was one of the first hurdles she had to clear when opening the school.
"I had to train the teachers first," she said.
Haiti's obstacles are numerous and the problem facing the healthcare system probably won't resolve anytime soon. However, adding more nurses and more resources to the picture can start to help little by little.
"We need more nursing schools like mine," D'Autruche said. "I think it's completely possible. We just need to proper support."
Her goal is to eventually attract funding partners to help expand the number of nursing schools and empathetic communication throughout Haiti.
"We're just a little non-profit school, so we need a lot of help gathering these resources," D'Autruche said.