First Year Pharmacy Students' Journeys Reveal How Different Paths Converge at Touro
A profile of how two college of pharmacy students with very different paths, ended up pursuing careers in health care at Touro University California.
October 16, 2023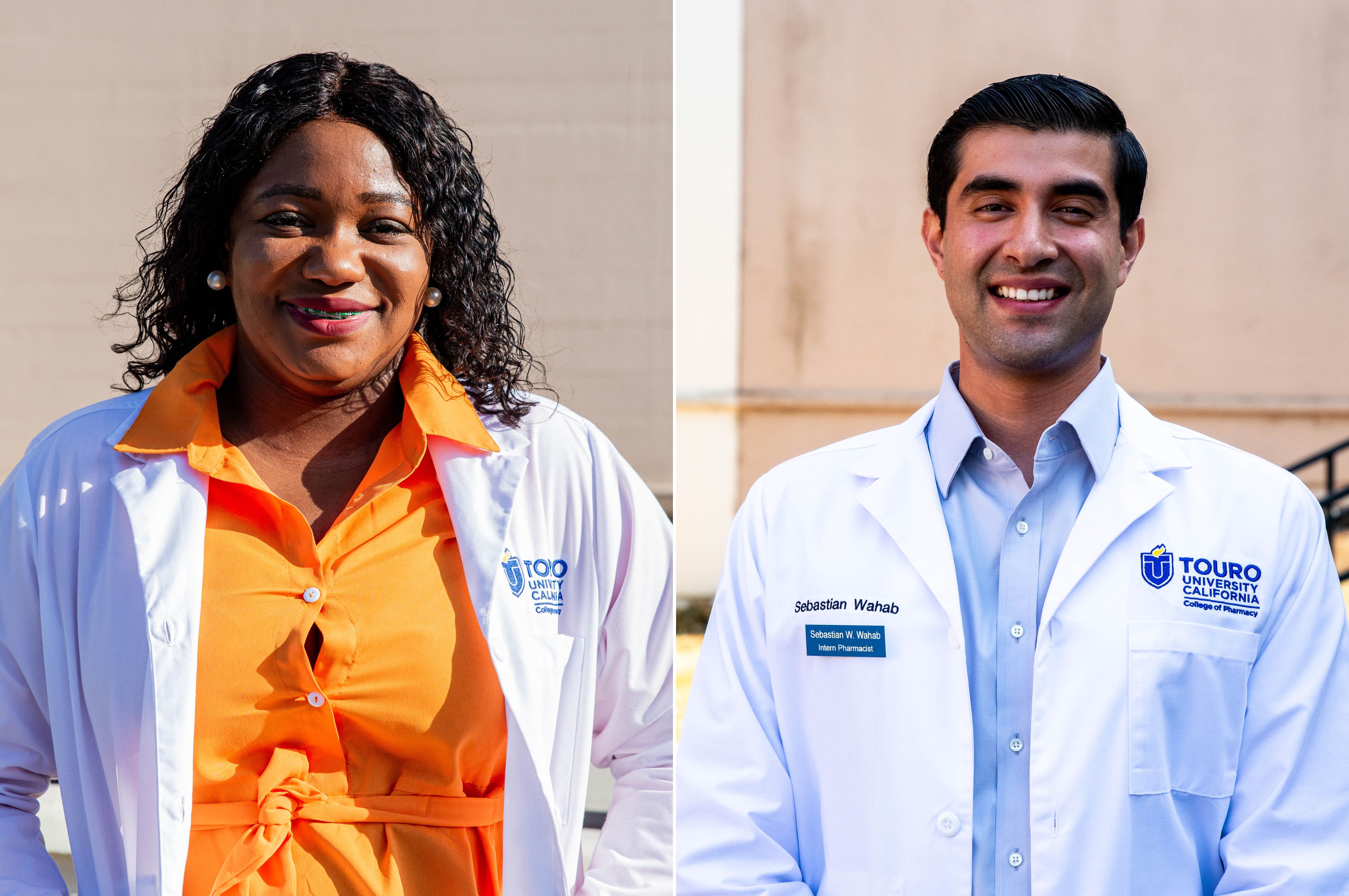 (left to right: Justine Kabangu , Sebastian Wahab )
For Justine, it was a career as a pharmacy technician that led to pharmacy school, but for Sebastian it was his parents' careers in genetics that brought him to Touro.
Justine Kabangu
For Kabangu, the journey to pharmacy school began in the living room while watching TV with her son. She had been looking for a new career and heard about pharmacy technician role. It wasn't a job she had heard about before and decided to give it a shot. Much to her surprise, she loved the work.
Her career in pharmacy flourished, despite not having any family members in the medical field. After working as a tech for 10 years, Kabangu decided to become a pharmacist. She aspires to be a first-generation doctor and pharmacist in her family.
Now in her first year at the Touro College of Pharmacy, Kabangu is gaining insight into the role and responsibilities of pharmacists. From understanding pharmacy law, memorizing the top 200 drugs, and comprehending drug interactions, Kabangu has gained a new appreciation for the role of pharmacist she didn't grasp as a technician.
"The drug interactions are the one big factor, so we go through patient cases and see how medication works in our body," says Kabangu. "It's been really challenging."
Kabangu's decision to pursue her education at Touro University was influenced by the work ethic and patient-centered approach she observed in Touro graduates working in pharmacies. She appreciates the availability and support of Touro's professors, who are willing to provide assistance and flexible options for communication. The university's resources, including tutoring, contribute to her positive experience.
Sebastian Wahab
A degree in philosophy may not sound like the first step to a career as a pharmacist, but that's how Wahab's journey began.
"There are many branches of philosophy, but my favorite was ethics and I think as a health care professional you should be very knowledgeable in those," says Wahab, who loves the curiosity and inquisitiveness the humanities major perpetuates. A love of learning is something Wahab got from philosophy.
Growing up with both of his parents working in genetics, he was introduced to the sciences early on. While he initially hails from Southern California, Wahab has adapted to life in Northern California for his education living with his grandmother, which has also taught him the importance of knowledge and quality health care services. Life far away from his parents and friends has been challenging, but new friendships have provided academic and social support.
Wahab values the emphasis on cultural humility in his education at Touro, recognizing that it contributes to his growth as a person and enhances his ability to connect with both peers and future patients. The admiration for the school's commitment to teaching these topics and highlights the importance of cultural humility in a diverse and amazing place like California. Overall, his goal is to provide the best health care for people, and he believes that cultural humility will be an asset in achieving that goal.