Carquinez Village Collaborative Project
Physician Assistant Students and Carquinez Village Members Work on Collaborative Project
February 07, 2022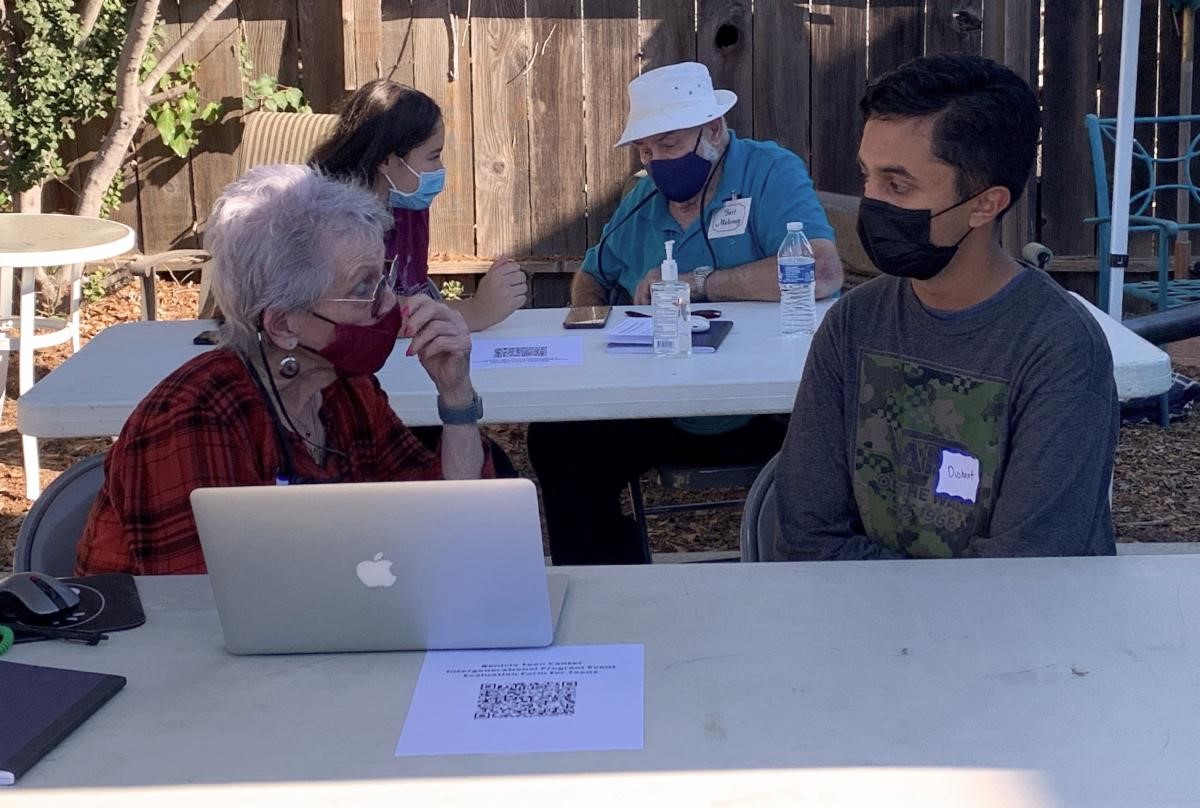 Students and Village Member Collaborate
We've probably all heard the phrase, "it takes a village" as it relates to raising children. The same idea is being applied to Carquinez Village; part of a growing 'Village' movement intentionally designed to help older adults stay connected to their communities. The model works due to the gracious invested time of our (always looking for more) volunteers who assist with rides, calls, and other help so the members can safely remain in their homes.
Started locally in Benicia, Carquinez Village is expanding into Vallejo. Medical findings are that not only are aging residents happier in the place they call home, but they are also healthier. The archaic concept of moving aging residents into so-called "old folks' homes" often isolates individuals who desire to remain vibrant and productive right where they presently call home.
Linda Chandler, a volunteer with Carquinez Village, says older adults, ages 60 and up, often feel marginalized as they are ignored by society at large. That might not have seemed like a major social issue decades ago when life expectancies weren't as long, but it is fast becoming a major problem for this growing demographic for several reasons these days.
The youngest members of the Baby Boom generation aren't yet even 60, meaning the number of Americans 60 and up is growing. The U.S. Department of Health and Human Services expects the population of Americans 65 and over to be nearly 22% by 2040.
Our existing national reality is designed for people to retire at 65 and then not be around much longer after that, but that just isn't happening anymore. In fact, a U.S. Census report shows that in the 1980s, there were 1.9 million Americans aged 90 and over. By 2040, that number is expected to be 7.6 million.
The Village Movement is determined to change the idea of older Americans being stored away in assisted living facilities and to recognize that these individuals still have a lot of life and value to add to society beyond the age of 60.
One area some of our local older assisted was with Touro University California's Physician Assistant program. Assistant Professor Kasaundra Heiberger happened across Carquinez Village and saw an opportunity for her students.
Heiberger has a background in Geriatrics and saw a chance for her students to learn some of the unique traits of older patients.
Carquinez Village members had already had a very positive experience with Touro by working with developers of SolanoConnex, a web-based mental health application. Chandler organized 15 members of the Village to help Beta-test the app to ensure it was user-friendly enough for people who didn't grow up in the Digital Ag. Their input was critical to ensure access for those who might be unfamiliar with certain types of technology.
Seeing mutual benefit in working with Touro, Chandler began to look for other partnering opportunities. She got her chance not long after when she partnered with Heiberger to have PA students practice medical history using eager Carquinez Village members as the "patients.".
"All 46 students had a 1-on-1 opportunity with these residents," Heiberger said. Part of the intent of the medical history project was to demonstrate how challenging the process can be, with several students telling Heiberger they felt they failed the task because they couldn't do a complete history.
"That's sort of the point," Heiberger said. "These patients tend to have a more complex medical history simply because they've lived longer lives."
Chandler believes the experience was a great success. "Just from the people I've talked to, they enjoyed it. They were listened to; they felt they had contributed something positive to the learning of the students," Chandler said. "Each had 35 minutes where another adult was making eye-contact with them and really hearing their concerns."
Chandler is hopeful that this is just the start of more opportunities for Village members to become involved in community projects. Heiberger hopes at least some of the students will nudge in the direction of Geriatrics, with the need for quality healthcare for this age group expected to grow greatly.
"We're hoping to partner more with Touro in the future," Chandler said. "Our members are vibrant; they are eager and interested; and we have a lot to offer."
You can reach Carqinez with further inquiries or if you would like to volunteer/donate or explore partnering at www.carquinezvillage.org.