Attracting National Guard Soldiers
Physician Assistant Studies Open Pipeline to Attract National Guard Soldiers
February 08, 2022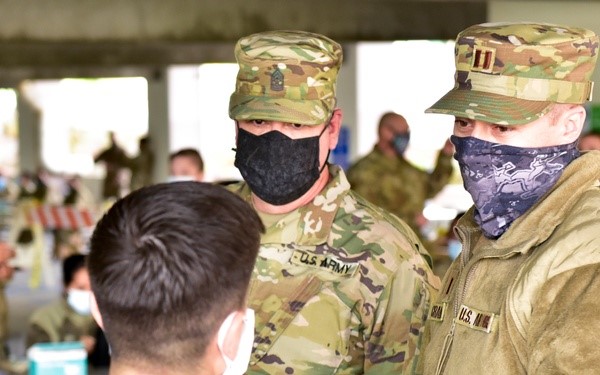 TUC Student Speaks with the Army National Guard
Touro University California's campus is a located on the former Mare Island Shipyard Navy base. Faculty at the Physician Assistant program are hoping that could make some potential students feel right at home.
The PA program recently created an agreement with the California Army National Guard to reserve up to five interview slots for Army National Guard members – provided the prospective students meet the minimum admissions requirements into the program.
PA Program Director Joy Moverley said the interview experience can sometimes be helpful to both the student and program.
"Sometimes the application appears a certain way on paper but then it's a different situation when you interview them," Moverley said. "It can be very helpful to talk directly to that person."
A veteran of the California Army National Guard herself, Moverley wanted to create a pathway to engage this potential pool of students and positively affect the communities where these Guardsmen live.
"I wanted to get more of these citizen soldiers involved in our program," Moverley said. "Those are the people who are going to stay in the area and serve these communities."
Moverley hopes this pathway can help serve the program's mission of training PAs to go into underserved areas, one of which being the veteran's population. Veterans aren't always likely to seek out health services but do often prefer to work with other veterans, Moverley said.
The concept gets back to the roots of PA as a profession, which started when military medics returned from the Vietnam War with experience in treating a variety of injuries and trauma but no job opportunities in which to ply those skills.
PA programs sprouted up as a way to quickly gain the academic foundation to match these experiential skills as quickly as possible so these graduates could begin treating patients competently and professionally.
"We're trying to keep up that tradition," Moverley said.
The pool is vast locally, with National Guard armories in nearby locations like Fairfield, Concord, Benicia, and Walnut Creek. Guardsmen serve in a similar manner as Reservists, serving over a series of weekends or a week or two at a time and returning to their jobs and communities for the rest of the time.
This pipeline is helpful for both medics and other soldiers interested in the PA profession. "I've had conversations with people whose military position is outside medicine. They may serve as an infantry solider or in human resources who are also interested in the working in medicine," Moverley said.
Aside from a potential interview slot, Guardsmen applicants will otherwise stand the same chances of being accepted into the program.