Alums Prep to Present Sessions to Shine Light on Current Mental Health Trends
Free Activity in Eureka Includes CME Credits
August 29, 2023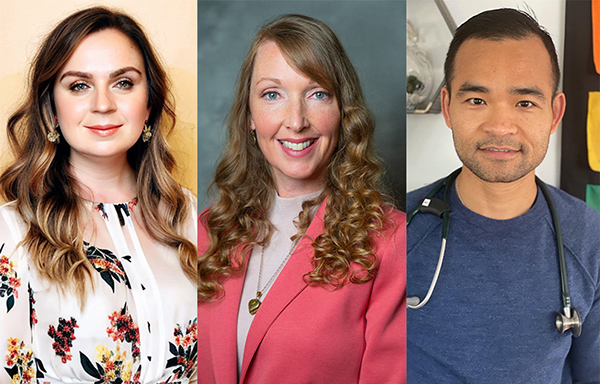 Dr. Joy Moverley, left, Darcie Larimore-Arenas, center, and Thanh Tim Nguyen, right, will present during a conference in Eureka, Thursday, Sept. 14, 2023.
Three graduates of Touro University California's Physician Assistant program will help lead a conference this fall in Eureka that offers up to seven CME credits to participants.
Dr. Joy Moverley, DHSc, MPH, PA-C (Class of 2012), Darcie Larimore-Arenas, MSPAS, MPH, PA-C (Class of 2012), and Thanh "Tim" Nguyen, PA-C, MSPAS, MPH, MS, AAHIVS, CAQ-Psychiatry (Class of 2014) will lead three of seven sessions during the conference, "Current Trends in Mental Health."
The conference is hosted by the Touro University California Joint MSPAS/MPH Program. Conference registration is free.
The one-day conference has been reviewed by the AAPA Review Panel and is compliant with AAPA CME Criteria. This activity is designated for seven AAPA Category 1 CME credits. PAs should only claim credit commensurate with the extent of their participation.
Alumni Presentations
Moverley will give a presentation on "Managing the Psychosocial Aspects of Diabetes." Larimore-Arenas will present on the topic "More Than Words: You, Too, Can Break the Language Barrier." Nguyen will discuss "Standing Compassionately at the Intersectionality of LGBTQIA+ Mental Health Care."
The conference is scheduled from 7:30 a.m. to 5 p.m. Sept. 14 at the Sequoia Conference Center, 901 Myrtle Ave., Eureka. Approval for CME credits is available the day of the conference only.
Other Presentations
Other presenters and their topics include:
*Vee Yoong, PA-C, PhD, "Suicide Assessment in Primary Care Risk Stratification Approach."
*Nick Entsminger, DMSc, PA-C (EM CAQ), "Opiate Abuse, Mental Health Disorders and Recidivism: What Happens When Inmates are Released and Where APPs Can Help."
*Madeleine Zeichner, PA-C, CAQ-Pediatrics, "Everyday Mental Health Screening and Treatment for Medical Providers in a Federally Qualified Health Care Setting."
*Jason Murray, PA-C, CAQ Psychiatry, "Depression: Beyond the Basics."
How to Register
Conference registration includes food for participants. Register at https://forms.gle/jND9t48kvedX5TE88.