$1 Million Check Presented For Truett Hall Improvements
Rep. Mike Thompson and Rep. John Garamendi visit Touro
May 02, 2022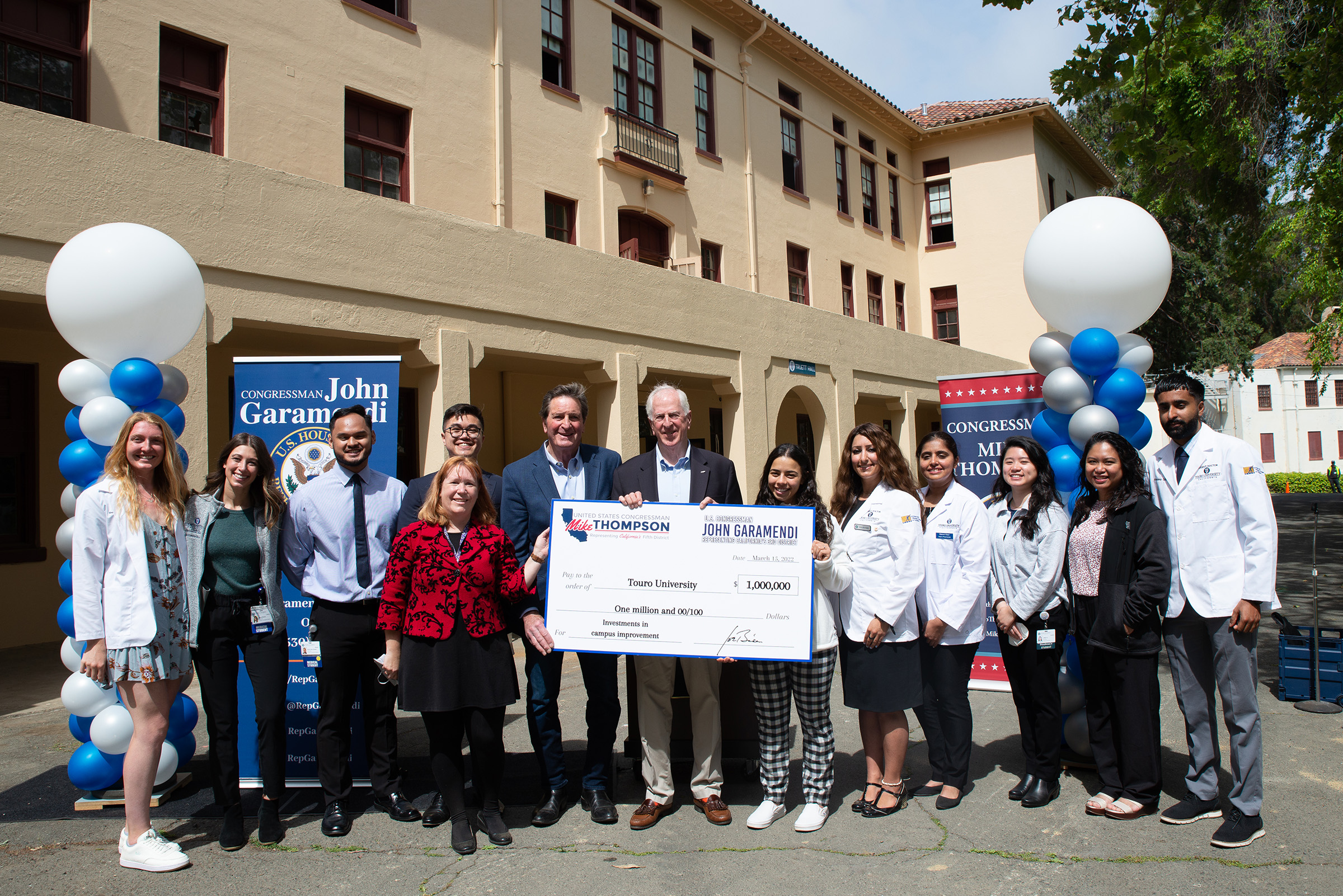 It's so much friendlier with two, according to Winnie the Pooh, and that certainly proved true Monday when both Rep. Mike Thompson and Rep. John Garamendi visited the Touro University California campus.
Following the state's redistricting efforts, the two congressmen will be swapping portions of their districts and have been making a number of public appearances together. For Touro, that was a piece of good news as Thompson and Garamendi brought with them a check for $1 million, which is intended to help continue the renovation work ongoing at the school's Truett Hall building.
Renovation of Truett Hall will allow TUC to expand many of its educational programs, as well as bring off-campus administrative offices on campus.
"We'll have better healthcare, a more diverse healthcare delivery system, and that's good for everybody," Rep. Thompson said. He added that he often hears about the top-notch quality of Touro graduates and providing funding to allow the university to create more providers was beneficial for the school and the surrounding community.
Rep. Garamendi echoed Rep. Thompson's sentiments.
"There's a constant theme everywhere we go … and that theme is 'we don't have enough health professionals. This university is creating those professionals," Garamendi said.
TUC Provost and Chief Academic Officer Dr. Sarah Sweitzer accepted the oversized check for a million dollars "with a grateful heart." She thanked the students and faculty for their hard work in the community and looked forward to the day when Touro would be able to open its doors to even more student health professionals and educators.