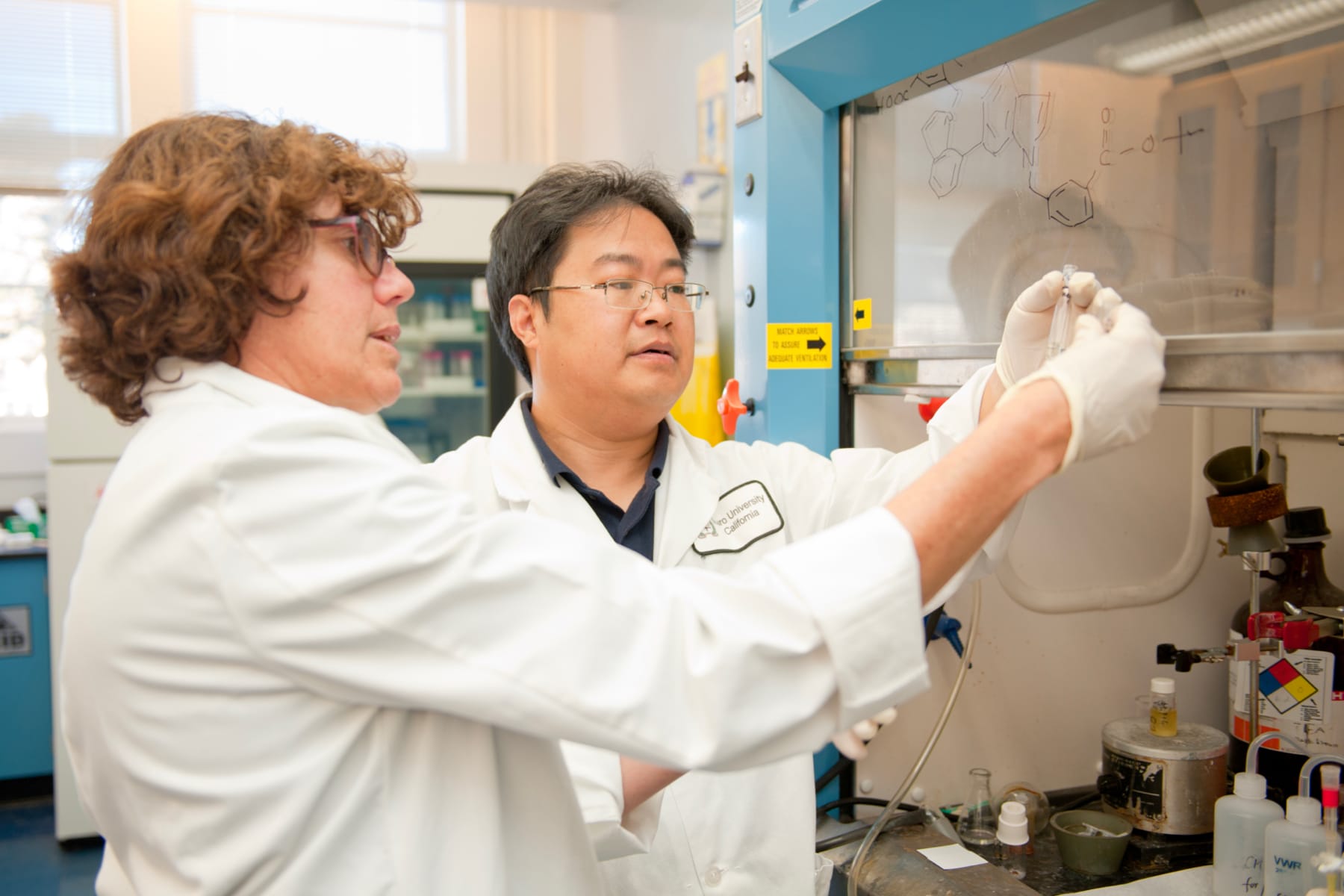 Research & Partnerships
Research in TUC's College of Osteopathic Medicine is robust.
Our faculty's interests include HIV treatment, cancer vaccines, metabolism, lipid disorders, aging, inflammation, neurological and chronic diseases and more.
Key Research Areas
Nutrition and metabolic research in humans. Our newsworthy study, done collaboratively with researchers at UCSF, focused on the interaction between carbohydrate and fat metabolism, and what it means for obesity in humans.
NMR and drug design. Backed by a grant from the National Institutes of Health, Touro researchers are studying how to inhibit the HIV virus from entering cells. While antiretroviral HIV drugs are able to reduce viral loads to undetectable amounts, they must be taken regularly, forever, or the virus will return. Our goal is to develop an oral medication that can defeat the virus.
Lipidology. Our work on the biochemistry and cell biology of diabetes mellitus includes research in cell culture systems, animal models and human subjects.
Our faculty also conduct research in other areas, including skeletal muscle design and performance, aging, diabetes, clinical trials, OMM, medical education, development, immunology, and biophysics.
Student Research
Touro students are involved in real-world research. Lab and clinical research means working alongside other students and benefitting from one-on-one time with faculty mentors.
Student researchers gain a deeper understanding of the publishing process and academic conferences. Students share their work at Touro's annual research day.
At Touro, our willing and eager students have always meant a robust and exciting research program of value and distinction.
We have solid partnerships at the local (UC Berkeley, UC Davis, etc.) level and international (Hebrew University, Jerusalem, Tokyo Medical Center, Japan, etc.) academic level institutions as well as with industry.
Labs/Facilities
Metabolic Research Center. MRC researchers study obesity, diabetes and related metabolic disorders and collaborate with colleagues throughout the Bay Area.
Mass Spectrometry Laboratory. The Lab is equipped with three GC-MS instruments and one triple quadrupole LC-MS/MS instrument and helps characterize lipids, carbohydrates and other biological analytes.
Lipidology Laboratory. Our lipidology laboratory employs techniques that study HDL function, with a special focus on LDL and HDL subclasses and the antioxidant enzyme paraoxonase 1 (PON1). We collaborate with UCSF, Mount Sinai, Israel and Japan.
NMR and Drug Design Laboratory. This state-of-the-art laboratory supports an array of techniques, including medicinal chemistry and organic synthesis; protein synthesis and purification; biochemical assay development; and NMR structural biology.
Core Microscope Facility. Equipment includes a Nikon E800, Nikon TE1s, Aperio scanning software, and more.
Outreach
You don't need to wait until you graduate to make a real difference. At Touro, our students are deeply involved with disadvantaged communities in our region as they address significant medical and public health concerns. Our faculty and students work at the Solano County Family Health Services' clinics, operate a local Student Run Free Clinic that is open to the uninsured, volunteer in pop-up vaccine clinics, and organize health fairs that help the homeless.
Our campus, on Mare Island in Vallejo, is a short drive from Oakland, San Francisco and Sacramento. The Vallejo community is one of the most diverse not only in the region, but the country–and you'll find endless opportunities to help underrepresented individuals gain access to quality care.
Some of our community outreach include:
Diabetes Prevention Program
Many individuals can prevent diabetes by changing their lifestyles – but they need somebody to show them how. In this campus-wide project, you'll work collaboratively with physician assistants, nurses, public health and pharmacy students and faculty to become a certified lifestyle coach. So far, 340 people have been trained in this program, which is recognized by the Center of Disease Control and Prevention.
Mobile Diabetes Education Center
88 million Americans have prediabetes, and almost all of them – 85 percent – don't know it. Our faculty and students take this 65-foot-long trailer all over Solano County, where we screen individuals for diabetes risk and raise awareness of the disease right in the areas where this screening and education is needed most.
Student-Run Free Clinic
This partnership between Touro and the City of Vallejo provides free health services to low-income city residents. Our clients benefit from the services you'll provide, including blood-pressure checks, physical screenings, osteopathic manipulative treatment, and more. And you'll gain the chance to earn valuable clinical experience while learning first-hand how social, cultural and economic challenges affect healthcare.
Project HAPPY
Healthy Attitudes Produce Positive Youth—that's the idea behind this initiative, started by a Touro pediatrician passionate about promoting health and reducing childhood obesity. Our students are trained to become family health navigators who then work with local families to provide cooking demonstrations, physical activity sessions, and lessons on healthy living.
Global health initiatives
Through a summer internship and elective rotations, our students deliver primary care to underserved communities in Ethiopia, India, Israel, Mexico, Taiwan, and Tanzania. Over the past 10 years, more than 300 students in our Global Health Program have served these and other countries.
Touro University/Solano County Health Clinic
The clinic provides a spectrum of quality patient care that emphasizes holistic, osteopathic principles, preventative health care, patient education and shared decision-making.
Elevate Youth
As part of California's Elevate Youth initiative, Touro University California received a $614,278 grant that it plans to use the funding will help expand the PATHS (Pathways to the Advancement of Total Health for Students) program to reduce the past 30-day substance use by 25% in Vallejo High School Students, reduce opioid overdose deaths in Vallejo by 50% and reduce perinatal opioid use in Vallejo by 10% by the end of 2023.
Research & Partnerships News & Stories
Community
New 'Street Medicine' Elective Eyes Curbside Treatment
School News
Dr. Smith assisting in a project meant to demonstrate greater representation of physical traits in anatomy instruction.