Classmates Remember Selfless Life Of Lt. Ruth Cortes
Memory will live on with plaque, scholarship fund
September 30, 2022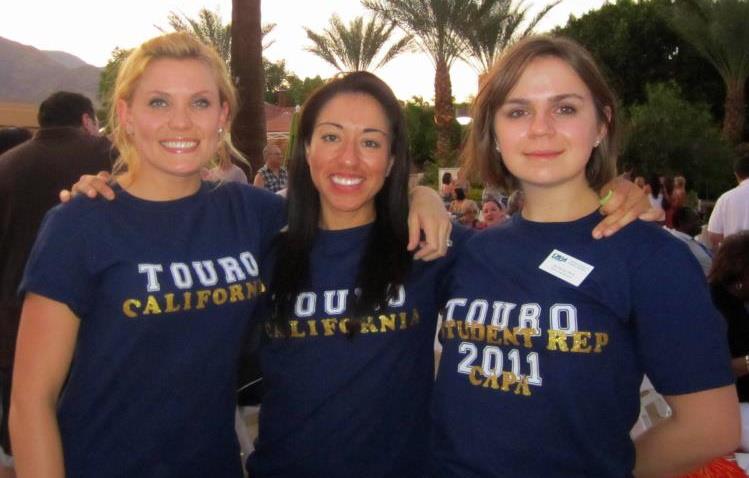 Class of 2012 PA students, Kimberly Warburton, Ruth Cortes, and Joy Moverley pose during a CAPA conference during the student challenge bowl.
When the Joint MPH/MSPAS Class of 2012 meets for a 10-year reunion in October, one of their classmates will be missing.
Although alumna Lt. Ruth Cortes, a Navy and Air Force veteran won't be in attendance, she will still be close in the hearts and minds of her fellow PAs from the Class of 2012.Cortes was tragically killed in an apparent murder-suicide in 2019 in Southern California.
Friends, family, and colleagues don't want Cortes to be remembered for the horrific way she died, but for the virtuous way she lived. Her family grew up in the shadow of Disneyland and the spirit "the happiest place on Earth" rubbed off on Cortes. Her sister, Judith Spirtos was quoted in the Orange County Register as saying Cortes "was always doing for others."
Ruth's mother, Laura Cortes, was killed in a car accident not long after Ruth graduated from San Diego State. She put off medical school to help her father take care of her sisters before serving in the Air Force Reserves. After a six-year stint in the Air Force, Cortes attended the Touro University California Joint MSPAS/MPH program.
After graduation in 2012, she completed officer training school with the Navy and worked in both emergency and family medicine in Camp Lejeune. In 2014, she served on a Forward Surgical Team (FST). At the time of her death, she was attending the Navy PA Orthopedic Fellowship in Portsmouth, VA.
"She put everyone else first, always, without complaint, without hesitation," Spirtos said in a quote in the OC Register. It wasn't uncommon for Cortes, for example, to give what medical advice she could to her sisters when their father became ill, even from deployments halfway around the world. Joy Moverley, Joint MSPAS/MPH Program Director and former classmate of Ruth's echoed the sentiments of others as to Cortes' character. "She was an amazing individual," Moverley said. "She supported her father while in PA school financially, which is no small feat. She worked as a radiology technician on the weekends."
A track star in high school, Cortes was an avid runner. The PA program will hang a plaque in front of one of the treadmills in the campus fitness center to honor her memory, but Moverley is working with school officials to create a memorial scholarship for a Touro student who shares Cortes' sense of selflessness and compassion.
"I want to support a TUC student because she is an alumna here and I want to keep her memory alive here," Moverley said. "She was super kind, had an infectious smile and would volunteer her time to help underserved individuals at local soup kitchens," Moverley said. "She really gave her all to everybody."