Dr. Grewal Defies High Odds To Become A Pharmacist
Immigrant daughter first to graduate college, pharmacy school
October 14, 2022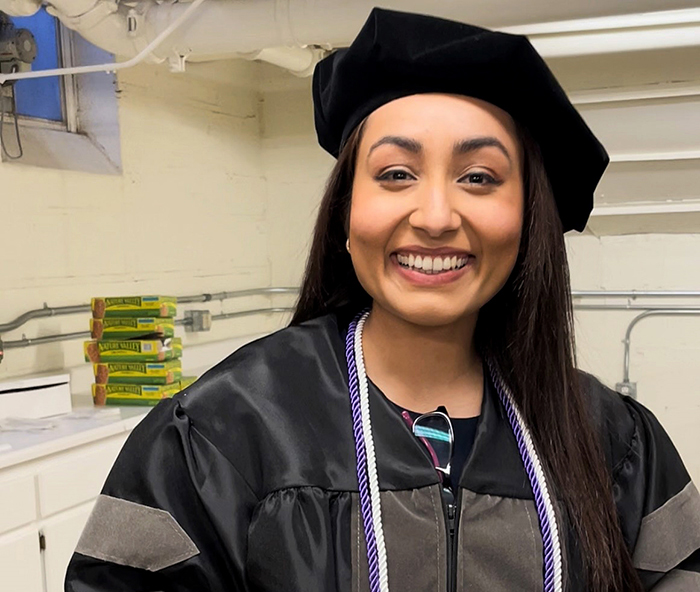 The odds that Navjot Grewal would be able to call herself "doctor" one day were pretty slim.
As an immigrant, she arrived in America at the age of 12 not speaking so much as a single word of English. Prior to her enrollment at the University of California, Davis, none of her family members had graduated from college.
But the Fairfield resident somehow found the grit and determination to earn her undergraduate degree in Neurobiology, Physiology and Behavior from UC Davis and, as of last week, earn her PharmD degree from Touro University California's College of Pharmacy.
Following her time at Davis, Dr. Grewal took a gap year and worked in a medical office. It was there she realized her ability to speak her newly mastered English, as well as Hindi and Punjabi, broadened her reach of being able to help treat patients.
As many immigrant children do, Dr. Grewal accompanied her father to a doctor's visit when she was younger to serve as a translator. The doctor was able to determine Grewal's father was on medication he was prescribed in India that he no longer needed to take.
"That experience really motivated me to want to earn my PharmD at Touro," Dr. Grewal said.
Dr. Grewal will likely spend some time working in the pharmacy industry before setting out on her long-term goal.
"One of my biggest goals is to have a collaborative practice agreement with a physician," Dr. Grewal said. "I want to be able to help underserved communities and people who don't speak English or know how to access resources."
Unlike some of her classmates, or students from other Touro programs, whose parents are college graduates or even doctors and pharmacists themselves, Dr. Grewal had to forge her own path in order to become a pharmacist. She's hopeful that opens doors – or at least the eyes – of students from a so-called ordinary family like her.
"I just want to be that example for a kid out there dreaming of going into the medical field but doesn't think they have the resources to get there," Dr. Grewal said. "If I can do it, anybody can do it."