PharmD Now A 3-Year Program At TUC
Change implemented to cater to needs of incoming students
November 23, 2022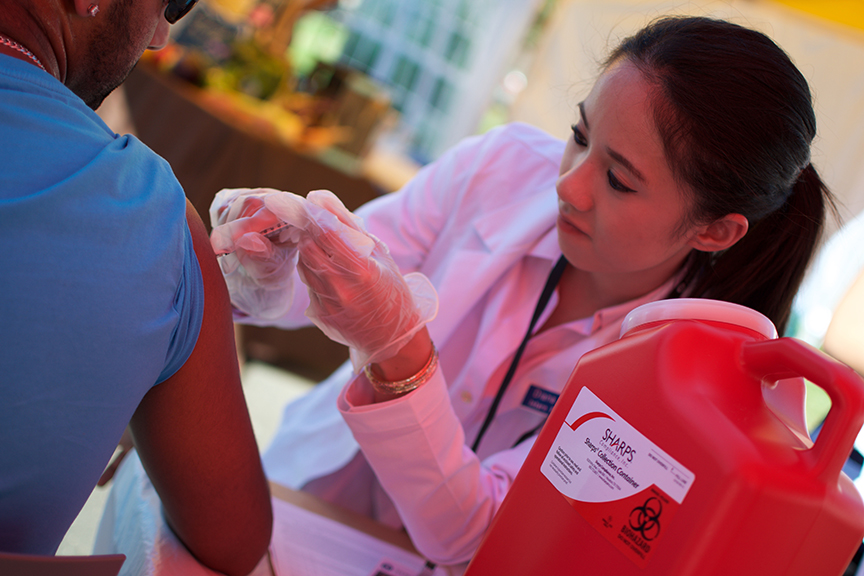 A student pharmacist gives a vaccine injection to a patient.
Touro University California announced that beginning in Fall 2023, the College of Pharmacy will be shifting to a 3-year program in an effort to meet the educational interests of incoming pharmacy students.
The College of Pharmacy (COP) had previously offered the nation's only 2+2 program, which consisted of two years of classroom coursework and two years of rotational experience. Despite the move to a three-year format, Touro's pharmacy program will remain relatively unchanged, with some instruction moving to the summer months to help condense the program timeline.
"This change has nothing to do with how we feel about the 2 + 2 curriculum. Our board scores have always been strong. Our residency match rates have been strong," said Dr. Jim Scott, College of Pharmacy Dean.
Dr. Scott noted the general decrease in pharmacy applications nationwide, combined with an increase in demand for three-year programs helped drive the transition.
"Over the last year, when we asked what they were looking for, 92-percent said they wanted a three-year program," Dr. Scott said. "92-percent is a big number. We can't ignore that number."
TUC Provost and CEO Dr. Sarah Sweitzer views the transition as a positive for the university and for future students.
"In California, and across the nation, we are facing a pharmacist shortage," Dr. Sweitzer said. "By condensing our student learning experiences into a high-quality, comprehensive 3-year curriculum, we can help to address these shortages while training highly competitive future pharmacists ready to challenge and change health inequities."
Dr. Scott sees this transition as a window of opportunity for incoming students, pointing to many unfilled job openings and residency spots as proof.
"The pharmacy profession is still strong," he said. "We're still needed. There are a lot of jobs waiting when they get out of school."
Associate Dean of Assessment and COP professor Dr. Catherine Cone said compressing the program from four to three years might seem like a recipe for burnout but she expects the opposite to be true.
"Actually, we expect that students will be less burned out," Dr. Cone said. "We are building in some exciting new aspects to our curriculum including more time for electives, certificates, active and skills based learning, and a new assessment process."
Dr. Cone explained that this has been an ongoing process, to refine the program offerings to give students the best experience possible. That process will continue even beyond the Fall of 2023.
"We plan to work with students and other stakeholders to gather feedback to further refine the curriculum," Dr. Cone said.