COM Announces Class Size Expansion For 2024
Move Comes As Primary Care Need Ramps Up In California
December 22, 2022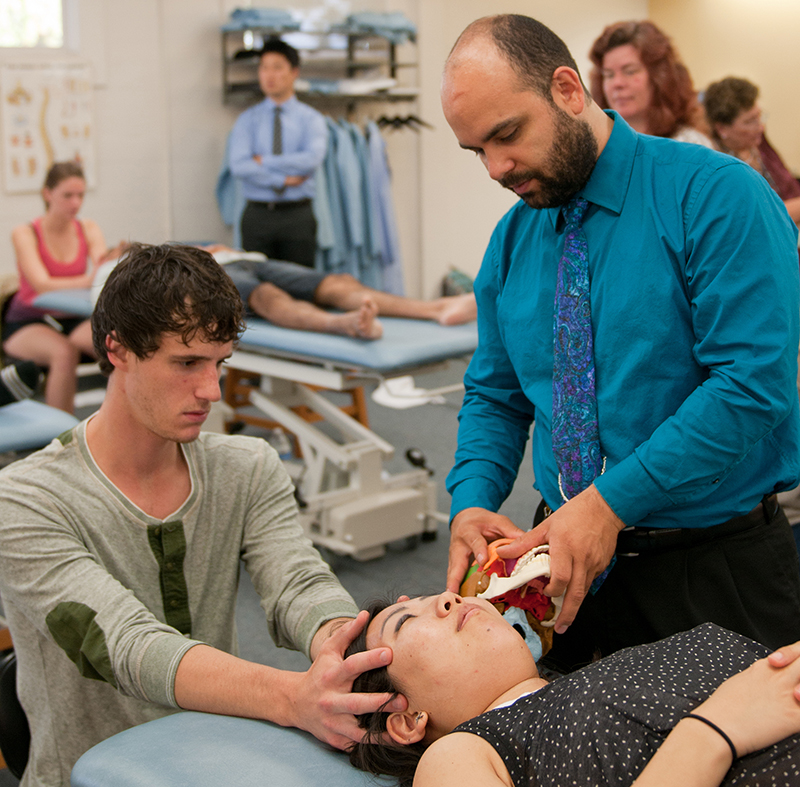 Dr. Victor Nuno demonstrates OMT using a model as student-doctors practice on one another.
One of Touro University California's central charges is to meet the growing demand for healthcare providers – particularly in the realm of primary care.
The university announced, this week, a major step forward in that mission with the expansion of the class incoming in Fall of 2024 into the College of Osteopathic Medicine (COM) by 50 students. This expansion is a significant achievement for TUC as a whole, but should also benefit communities in and around Solano County, as well.
"This class size expansion is critical to state of California," said TUC Provost and CEO Dr. Sarah Sweitzer. "For the last decade, we have been anticipating a Primary Care Shortage and COVID has accelerated the timeline."
Rural and underserved neighborhoods tend to be hardest hit by these provider shortages, Dr. Sweitzer said, and those communities are sought-after areas of practice for a large percentage of TUC graduates.
"This class size expansion is our Touro mission in action to address health inequity," Dr. Sweitzer said.
Part of what makes this expansion possible is the renovation of Truett Hall, a previously vacant building on the Touro campus. Renovation of Truett Hall was facilitated by a $1,000,000 grant that Congressman Mike Thompson helped secure. The 33,000 square foot building will be the new home for the Osteopathic Manipulative Medicine, Doctoring, and Ultrasound labs, as well as newly developed Team-Based Learning classroom spaces.
This new chapter for Touro, which began with Osteopathic Medicine as its first degree program, comes as the university celebrates its 25th anniversary.
"It is very fitting that at the end of our 25th year as a college, we have been granted this opportunity to grow and further develop," said Dr. Tami Hendriksz, dean of the College of Osteopathic Medicine.
The announcement of the expansion was also a very gratifying moment professionally for the staff, faculty, and students within COM.
"A larger class size is a sign of our maturity and recognition of our accomplishments," Dr. Hendriksz said. "It brings more opportunities for all of us, and I couldn't think of a better COMmunity to celebrate and grow with."